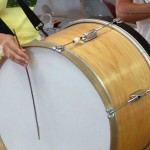 If you're a detail-oriented person (as many of us are!), you have already noticed a few changes in our membership program this year. We want to keep you in the loop, so you understand what prompted these decisions.
First increase since 2009
First, the cost of a core membership is now $75. This is the first rate increase since 2009. Camp tuition payments do not cover all the costs of putting on our workshops, and the cost of renting the Mendocino and Iroquois Springs facilities, by far the largest item in our budget, has gone up over the past several years. The discount rate for students, low-income, and working artists remains at $35.
A different kind of thank-you
Second, we have removed the thank-you gift options for higher levels of giving. We looked at whether offering EEFC bottles, totebags and earplugs encouraged people to donate more. Overall, it did not. We also looked at what other organizations do and professional fundraisers advise. And we realized that your thank-you gift really is ensuring that we can keep creating excellent programs for you to enjoy. (Oh, and the totes, bottles, and t-shirts won't go to waste. We'll still have them available for purchase online and at the summer workshops.)
Memberships run January-December
Finally, after much consideration, we have returned to memberships that run January through December. Last year we tried an annual, by-month schedule, which needed much more effort than we could capably implement. We also concluded that a calendar-year model helps us more effectively manage finances and measure how we meet annual fundraising goals. So, what does this mean for you? If you became a member between October and December 2015, your membership will be counted through the end of December 2016. If you became a member midway through 2015, we will keep your name on the website through 2016 to make sure we're being fair. If you always become a member when you register for camp, you may certainly continue to do that. However, we encourage you to consider changing your pattern and become a member now, not only because it will ensure you are acknowledged for a full year of support, but also because your donation will help us plan more effectively for the 2016 season.
To join or renew your membership use the online form.