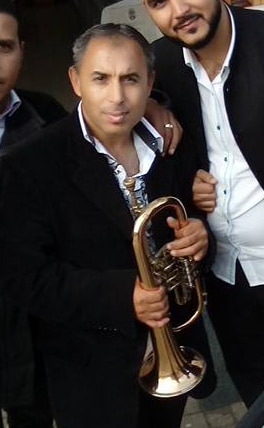 Demiran Ćerimović
Brass Band, Trumpet
Demiran Ćerimović is a renowned Romani trumpet (rotary-valve flugelhorn) player and brass band leader from Vranje, Serbia. Like many in his community, he learned the art of the trumpet from his father, also a flugelhorn player who performed in a Vranje-based brass ensemble. Demiran's mother's family are from nearby Vranjska Banja, another community also famous for excellent Romani brass band musicians. His maternal grandfather was a drum (goč) player, and his connections to his maternal family allowed him to also learn the specific styling and repertoires of the Banja Romani community.
Demiran formally began performing in an ensemble, with his father, at the age of 16. In 1997, at the age of 27, he formed his own orchestra called Vranjski Biseri (Pearls of Vranje) and participated in the national brass competition in Guča for the first time. From 1997 to 2010, Demiran and Vranjski Biseri achieved ever-greater success at both regional brass competitions (in Surdulica) and the national competition in Guča, winning diverse awards (ranging from minor to major) nearly every year at festivals. In 2002, 2006, and 2007 Demiran and Vranjski Biseri won the highly prestigious award for "Best Ensemble" at Guča; in 2008, Demiran was awarded the prestigious title of "Master of the Trumpet" on account of his multiple wins at Guča and in recognition of his lifetime of stellar musicianship.
Outside of regular performances in Serbia, Demiran and his ensemble have toured the Middle East and Europe extensively, performing in eclectic music clubs and at concert venues on the world music circuit and even collaborating with various international artists, including Tony Hanna. The ensemble recorded an album in 2002 titled Pearls of Vranje, and Demiran was featured in the 2010 Meerkat Media Collective documentary film Brasslands together with U.S.-based ensemble Zlatne Uste. Demiran has also taught South Serbian and Romani-style brass music at seminars and workshops in Serbia, Western Europe, and North America; he has worked with the members of Zlatne Uste during their trips to Serbia, and in recent years he has been a regular guest at events hosted by Vancouver-based ensemble Orkestar Šlivovica. Demiran continues to perform widely and participate in brass band competitions, but he is also continuing the family legacy of training the next generation of brass musicians. He has been grooming his son Novica, also a fine flugelhorn player, in the art of leading a brass ensemble—and he has already begun preparing to teach Novica's young son, Demiran (Jr.), to take up the trumpet and follow in his grandfather's footsteps.
EEFC is honored to bring Demiran to our workshops in partnership with
the New York Gypsy Festival, which featured him in performance with Slavic Soul Party! on June 10, 2017, at Manhattan's Drom music club.