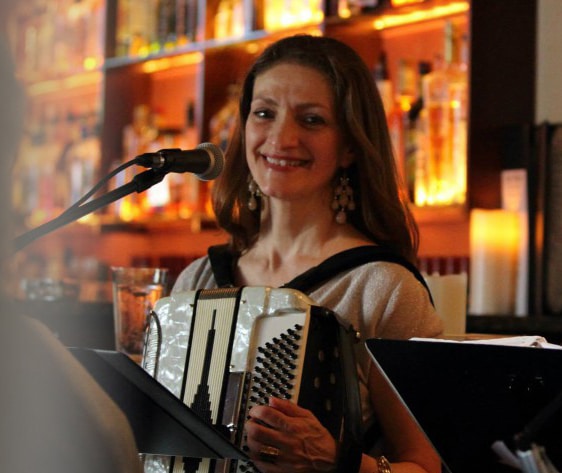 Sandy Theodorou
Greek Singing
Sandy Theodorou is a vocalist, accordion, and laouto player who specializes in traditional Greek regional music and Greek urban rebetika. She was born in Pireas, Greece, and her family roots are from Epiros and Kefalonia. Sandy is a core member of the traditional Greek music band Revma, the Rebetiko (Greek blues) band Rebetoparea, and Oinos, playing laika of the 50's and 60's as well as the compositions of Makis Emmanoulides. She has performed with several Boston-based Greek musicians and bands including Beth Bahia Cohen, Mal Barsamian, Rebetiki Compania, Synavlis, and Ta Dilina, and has accompanied Greek artists Manos Koutsaggelidis and Diamantis Dionisiou, and New York-based artist Grigoris Maninakis. She has accompanied live dance performances for the award winning Hellas dance group of North Carolina. Sandy has performed as a dancer with the Boston Lykeion Ellinidon and served as chairperson of its Traditional Greek Music Department. She was recently nominated for Best Sound Designer by the New Hampshire Theatre Awards for her design and performance of music for the theatrical production of Seamus Heaney's The Burial At Thebes.
Class Description | Beginning Greek Singing
Beginners are welcome.
Schedule allowing, I'm available for additional instruction outside of class.
We will plan to perform at the Student Concert, but students can decide individually whether they'd like to perform.
This class plans to collaborate with the Greek Ensemble and Greek Dance classes.
Repertoire will be taught by ear at a fairly rapid pace.
Class will focus on expanding repertoire with a sampling of different genres within Greece including mainland, island, and Urban Rebetika.
Repertoire will be made available online before camp.