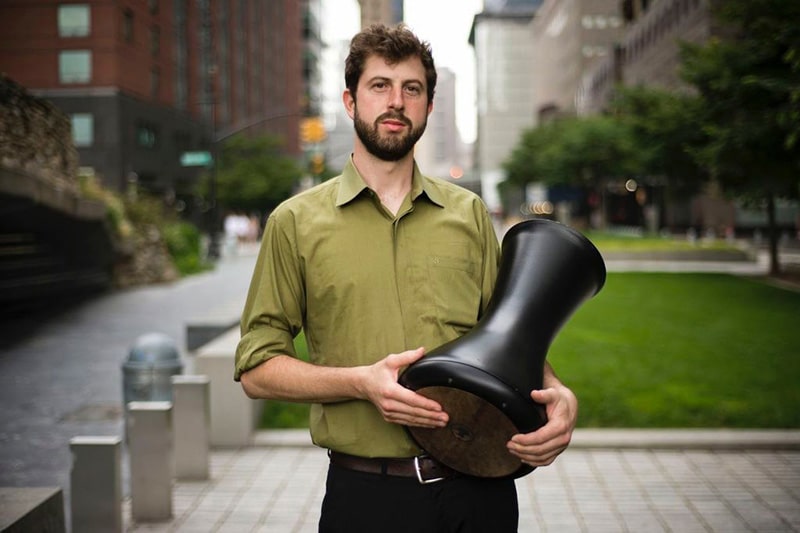 Sean Tergis
Doumbek
Drawing on a musical base in folk music from the Middle East, Turkey, Greece and the Balkans, Sean Tergis brings a unique element to his drumming through many different influences. At an early age, Sean studied darbuka, riqq, and frame drum from Faisal Zedan, Mark Bell, and Tobias Roberson. Since 2002, Sean has been gigging locally in is home city of San Francisco with various groups including Deli Kanlı (Turkish folk) and Hahbi'Ru (Egyptian Folk). In 2006 he moved to Istanbul, where he continued to study and perform. When he returned to the Bay Area, he joined a group lead by Rumen Shopov, who became his main davul teacher. Sean has since toured both locally and internationally performing with various groups. Sean currently plays with Inspector Gadje Balkan Brass, MWE, Édessa, Stellamara, Istanbul Connection, Radio Istanbul; and he produces a weekly musical event in San Francisco called Balkan Sundays.
Class Description | Doumbek – Intermediate
All levels welcome, but we'll keep to an intermediate pace.
Class will focus on technique and tools for being a good accompanist.
I will introduce technique for the Turkish "split finger" style.
Reference recordings will be used.
Schedule allowing, I'm available for additional instruction outside of class.
The Student Concert/Student Ensemble Party is optional, and the class will decide whether we perform.