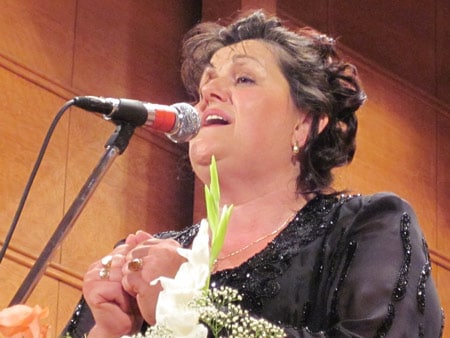 Tzvetanka Varimezova
Bulgarian Singing
Tzvetanka Varimezova was born in Pazardzhik in Bulgarian Thrace, and started singing and playing accordion at age 9. She went on to master tambura and piano, and studied folk music at Kotel High School for Folk Music and received a B.A. degree in choral conducting and folk instrument pedagogy from the Academy of Music and Dance in Plovdiv.
During the 1980s she directed the choir of a regional professional ensemble of folk song and dance in the town of Pazardzhik. During the 1990s she was a soloist and assistant choral director of a number of professional women's choirs in Sofia, including the Bulgarian National Ensemble of Folk Song and Dance, founded by Filip Koutev.
She performed with Ensemble Trakiya for five years and conducted the Pazardzhik Ensemble choir for seven. In 1993 she began working with two Bulgarian-style choirs in Denmark, and also sang with Cosmic Voices from Bulgaria and Les Grands Voix Bulgares.
In addition, she has been working with choirs from around the world, including Denmark, France, Greece, Japan, Switzerland, Canada, Spain, and numerous choirs in the United States. She has many solo recordings to her name and is well known for her brilliant, high-pitched tone quality and her interpretations of the highly ornamented songs from her native Pazardzhik region, as well as from all the folk regions of Bulgaria.
She performs regularly with her husband Ivan Varimezov. Since 2001 they have been in residency at UCLA, where Tzvetanka directs the women's Bulgarian choir there.
In 2017 Tzvetanka was awarded "Voice of the Year 2017" at the Annual Folk Music Awards in Bulgaria. At the same awards ceremony in 2018 she received the "Award for Lifetime Contribution to Bulgarian Folk Music."