Welcome
The East European Folklife Center (EEFC) was established in 1982 through the love and dedication of a core group of musicians and dancers. Today, this ever-growing and expanding organization brings together an inclusive, celebratory, and welcoming global community of passionate amateurs and professionals, to respectfully share the richness and complexity of Balkan music, dance, and cultures.
Find out all about our annual East and West Coast Balkan Music & Dance Workshops, affectionately known as Balkan Camp. Learn about the EEFC: how we are structured, how to become a contributor and where you might apply your expertise as a volunteer. Remember to subscribe to the EEFC email Newsletter and get monthly news delivered directly to your inbox.

Balkan Camp 2023—Sign Up Now!
We're pleased to announce that registration is open for both the Mendocino and Iroquois Springs Balkan Music & Dance Workshops. Visit the West Coast and East Coast camp pages for all the details on the workshop, site, teachers—and to fill out a registration form. We truly can't wait to see you at camp this summer.
Psst: Last day to register for the Mendocino workshop is June 11, 2023, so don't delay getting your cyber-paperwork in!

Fundraising Drive News
You did it! As of January 31, we collected just over $40,000, fulfilling our first interim fundraising goal for 2023. We aren't done with this year's fundraising efforts by a long shot, but after this first push we are incredibly gratified and encouraged by the confidence you've shown in EEFC and our programs. Keep track of our donations here, and check out our gorgeous ful-filled Zurnometer here. THANK YOU.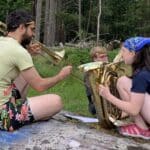 March 24th, 2023
Springtime is here and as we look forward to the summer, we are so excited to be holding our first weeklong camps in four years! Registration has just opened for …
Read More