Welcome
The East European Folklife Center (EEFC) was established in 1982 through the love and dedication of a core group of musicians and dancers. Today, this ever-growing and expanding organization brings together an inclusive, celebratory, and welcoming global community of passionate amateurs and professionals, to respectfully share the richness and complexity of Balkan music, dance, and cultures.
Find out all about our annual East and West Coast Balkan Music & Dance Workshops, affectionately known as Balkan Camp. Learn about the EEFC: how we are structured, how to become a member and where you might apply your expertise as a volunteer. Remember to subscribe to the EEFC email Newsletter and get monthly news delivered directly to your inbox.

Online Classes
EEFC is thrilled to sponsor exciting live online class series, taught by our beloved workshop teachers. Something for everyone, and new offerings every month!
November 2021 offerings: Greek Dance with Joe Kaloyanides Graziosi, EEFC Songbook Songs from Macedonia & Bulgaria, Series 2 with Corinna Škėma Snyder, Greek Singing with Christos Govetas, and Tapan with Matt Moran. Sign up now!

Join the Board/Nominate a Friend!
The EEFC Board of Directors is seeking a replacement for outgoing Board member Alex Markovic. Interested community members may either fill out an application or submit a nomination until December 15. Applications will be processed by the Nominating Committee and then passed on to the Board for their consideration. If you have the time, skill, and desire to give back to the community through Board service, we encourage you to apply!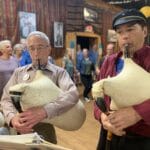 December 21st, 2020
As many of you have experienced, our snail-mail services are struggling to keep up with the demands of this socially distanced holiday season. While we hope our usual year-end mailings …
Read More