Welcome
The East European Folklife Center (EEFC) was established in 1982 through the love and dedication of a core group of musicians and dancers. Today, this ever-growing and expanding organization brings together an inclusive, celebratory, and welcoming global community of passionate amateurs and professionals, to respectfully share the richness and complexity of Balkan music, dance, and cultures.
Find out all about our annual East and West Coast Balkan Music & Dance Workshops, affectionately known as Balkan Camp. Learn about the EEFC: how we are structured, how to become a contributor and where you might apply your expertise as a volunteer. Remember to subscribe to the EEFC email Newsletter and get monthly news delivered directly to your inbox.

BalkanFest 2022
We're giddy with excitement in anticipation of our first in-person events since the 2019 Balkan Camps! As we move towards the summer of 2023 and the reestablishment of our beloved weeklong workshops, we've set up two fantastic weekend gatherings to be held in the New York City area in August and San Francisco in September of this year. BalkanFest, the East Coast edition, is now open for registration. Check out all the details and sign up here!

Online Classes
EEFC is thrilled to sponsor exciting live online class series, taught by our beloved workshop and community teachers. Something for everyone, and new offerings every month!
July 2023 offering: Movie Night with Joe Kaloyanides Graziosi.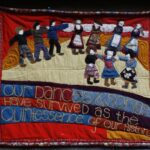 February 19th, 2022
Dear EEFC Family, The EEFC Board of Directors is entrusted with making decisions on behalf of the larger EEFC community. Recently, the Board has had to grapple with the difficult …
Read More