The Facility

The EEFC's East Coast Balkan Music & Dance Workshop is held at Iroquois Springs, located near the town of Rock Hill, in the Catskill Mountains. It is an immaculately maintained, spacious site with a pleasant, open country atmosphere. It is located 90 miles NW of New York City and 80 miles NE of Scranton, PA, on NY Route 17. The camp has bunkhouse-style cabins with porches, electricity, abundant storage space, and interior bathrooms. For more privacy there is plenty of space for tents. The site has a lake, swimming pool and attractive common buildings.
The Workshop
The Iroquois Springs workshop runs from Saturday evening to the next Saturday morning. Classes begin Sunday morning, and are held each day through Friday. Following a review session Friday morning, participants have the option to perform in a student concert. The week closes on Friday with a Balkan-style lamb roast and the last of the week's great evening parties. We have part-time attendance options available.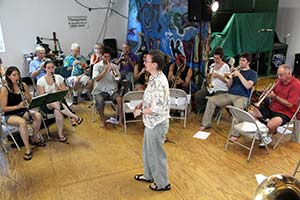 The Program
A broad array of instrumental, vocal, ensemble and dance classes at all levels are offered across five daily 75-minute class slots. See the sample daily schedule. We provide an instrument-lending program to enable new students to get started on harder-to-find village instruments. In the early evenings the program includes folklore presentations and panel discussions, group sings with musical accompaniment, and our fun, community-building fundraising auction. Live music dance parties featuring our world-class staff musicians will delight your feet in the dance hall; and the party continues late into the night in our more intimate cafe-bar and grill, the kafana, with a variety of musical sets by staff and campers, from the ecstatic to the roof-raising.
Food
The workshop features three delicious meals a day and an evening snack, with selections to please both omnivore and vegetarian tastes.
Families
We welcome families! The Iroquois Springs workshop features two class periods a day in children's activities, singing for younger voices, and a youth band. Children are also welcome and encouraged to take adult classes, according to their capabilities. Find more info on Kids at Camp.
Work Exchanges
A few partial-tuition-waiver work exchanges may be available for full-week participants. Inquiries for work exchanges will be entertained only after registration has begun (see below).
Registration, Fees, and Other Information
Registration for 2022 will be open in late winter or early spring. Stay tuned!