Meet the Board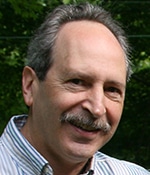 Noel Kropf, Garrison, New York
Secretary; Technology Committee Chair; member of Finance Committee. Term: 1/2015 —
I am an avid dancer, singer, and sometime fiddler. Our family is in love with Balkan music and dance and this is our primary community. I started folk dancing in 1969. Around 1979 I attended the EEFC camp at Mendocino and was hooked, and since then I have attended nearly every EEFC camp on the East Coast. I've worked on the EEFC online discussion list (listserv) since 1993. I have volunteered with NYC Golden Festival since 2005, and have been on the Golden Fest Organizing Committee for the past decade.
I serve on several nonprofit boards and as Treasurer of our homeowners' association. I have volunteered as webmaster for groups including Sierra Club NY, EEFC, and Golden Fest. I am a software developer by trade.
I will work to help our EEFC fulfill its mission, to enable the rich experiences that happen at our camps and related events.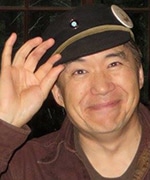 Craig Kurumada, Arcata, California
Development Committee Chair; member of Finance Committee. Term: 9/2017 —
I attended my first Balkan Camp at the Mendocino Woodlands in 1988 and have been coming ever since.
My educational background is in linguistics and German. I played French horn from childhood to college and enjoyed playing Western European classical music. I have always been attracted and intrigued by traditional music and dance. I became a folk dancer, singer, and musician in rapid succession upon joining Salt Lake City's Živio Ethnic Arts Ensemble, and touring Macedonia, Croatia, and Hungary in 1987 and 1989. I co-founded the Arcata, California-based international band Chubritza after a trip to Bulgaria in 1993.
Although I was a development staff member for the EEFC in the mid-1990s, this is my first term as a Board member. I look forward to using my training and experience in fundraising and nonprofit work to bring long-term financial stability to the EEFC.
I retired in 2016 from Humboldt State University's Math and Computer Science Departments, where I was an administrative coordinator. I'm currently assembling Bulgarian bagpipes (gajdi) with the mission of getting them into the hands of those who want to learn to play.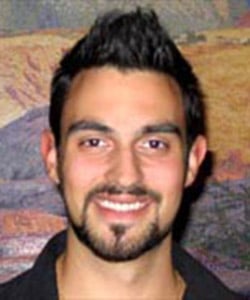 Alex Marković, Chicago, Illinois
President; member of Finance Committee. Term: 9/2017 —
I am a cultural anthropologist interested in music and dance, identity, and politics in the Balkans. I am also Serbian-American, and I grew up in the Serbian community in Chicago where I began dancing at the age of seven. Throughout my teenage and young adult years, I was active in various Serbian and Greek folk dance groups, and began to teach dance as well as research the cultural context of dance and music in the Balkans. I went on to earn an M.A. and Ph.D. in Anthropology at the University of Illinois-Chicago, conducting ethnographic research on Romani music and ethnic identity in southeastern Serbia.
It was during my graduate study that I was first exposed to the EEFC. At the suggestion of my mentor Dr. Carol Silverman, I attended my first camp and was blown away by the music, the dancing, and the community! I have been an avid supporter of the camps and of the educational mission of the organization ever since. Because my interest in performing Balkan folk dance & music intertwines with my scholarly work and anthropological training, I anticipate drawing from these different spheres of my life as a board member to support the work of the East European Folklife Center. I am committed to using my experiences to guide important discussions about cultural aspects of the organization's mission, and for long-term strategizing for the sustainability and growth of the EEFC.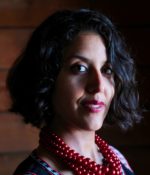 Maclovia Quintana, San Francisco, California
Program Committee Chair. Term: 9/2018 –
I was born and raised in northern New Mexico by artist/musician parents. I've been performing Balkan and Eastern European music since college, when I joined the Yale Women's Slavic Chorus. I sang with the Slavic Chorus for 10 years.  In 2012, I co-founded the Balkan band Orkestar BAM, which played for five years in the greater New York City area. I'm also a percussionist, having studied doumbek with Polly Tapia Ferber and Faisal Zedan.  When I'm not playing music, I am the Diversity, Equity, and Inclusion Program Manager at Earthjustice. I'm delighted to be serving on the board of the EEFC!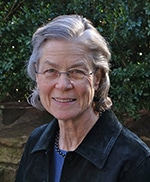 Barbara Uhlemann, St. Louis, Missouri
Treasurer; Finance Committee Chair; member of Development and Administrative Committees; Scholarship Committee Co-Chair. Term: 9/2015 —
I have been coming to Balkan Camp since the early 1990s. In addition to the excitement of participating in the classes, evening dance parties, and many other activities and events, I have been deeply moved by the friendliness, generosity and camaraderie that are part of the week's experience. Balkan Camp has also become a very special family experience for my husband and me. We started bringing our now-teenage grandchildren to camp when they were little and have watched with delight as they have made friends, developed skills, and come to love Balkan music and dance.
I have been an active participant in the St. Louis folk dance group for many years. I have a small business managing financial reporting for other small businesses, and I serve on the boards of several not-for-profit organizations.
I am grateful to all those who have worked so hard in the past to make Balkan Camp a reality and am glad to have the opportunity to do what I can to help ensure the future of this amazing organization.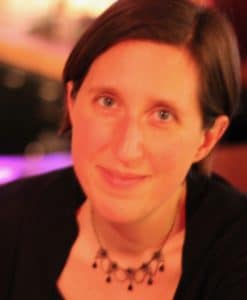 Kristina Vaskys, Brooklyn, New York
Vice President, Co-chair of Scholarship Committee; Term: 9/2018 —
I am a dancer, singer, and instrumentalist who first attended camp in 2004. I was first exposed to Balkan music and dance while performing with the Duquesne University Tamburitzans for two years in college, and the experience left me curious to discover more. Upon finding Michael Ginsburg's dance class in New York City, I was introduced to the wider EEFC community, Golden Festival, and Balkan Camp. It has been a significant part of my life ever since.
I currently play tambura and sing with Niva, an all-female Macedonian village band formed in 2010. I also sing with Accord Treble Choir, and have been a music educator in New York City independent schools since 2006. I am excited and honored to be serving on the board of EEFC.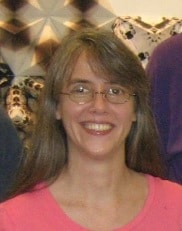 Lea Anne Kangas, Columbus, Ohio
Member of Finance Committee; Term: 10/2019 —
My path to the EEFC began with international folk dancing during my teens, soon gravitating toward Balkan music and dancing. My first full-immersion experience of Balkan camp was in 2012, and I've been a steady attender since.
A background in music theory and composition along with coursework in audio recording led me to work as a sound engineer for a number of years while living in the Washington, DC area. I also do a fair amount of music transcription. More recently, I've taken up a number of instruments in addition to a renewed interest in singing, performing with the Balkan band Hajde, as well as several other bands in styles ranging from Bluegrass to American folk and jazz. At camp, I can usually be found somewhere in the tambura and singing classes.
In my local school and dance groups, I've served many times as Treasurer among other organizational roles. Since 2015, I've been a member of the EEFC Program committee. I look forward to helping continue to keep this wonderful community flourishing.
Corinne Sykes
Chair of "Virtual Camp" task force; Term: 1/2020—
Biographical information pending.
Past Boards of Directors
We would like to acknowledge and thank all past Boards for their work and dedication to the EEFC.
Board members are listed by year and not necessarily by terms served, which run from September to September.

2019
Alex Marković
Noel Kropf
Melinda Russial
Barbara Uhlemann
Kristina Vaskys
Maclovia Quintana
Craig Kurumada
2018
Noel Kropf
Amy Mills
Melinda Russial
Corinna Snyder
Demetri Tashie
Barbara Uhlemann
Craig Kurumada
2017
Elena Erber
Noel Kropf
Amy Mills
Melinda Russial
Corinna Snyder
Demetri Tashie
Barbara Uhlemann
2016
Elena Erber
Noel Kropf
Amy Mills
Corinna Snyder
Demetri Tashie
Barbara Uhlemann
2015
Elena Erber
Jean "Biz" Hertzberg
Noel Kropf
Nancy Leeper
Amy Mills
Eva Salina Primack
Corinna Snyder
Demetri Tashie
2014
Elena Erber
Jean "Biz" Hertzberg
Nancy Leeper
Amy Mills
Ann Norton
Eva Salina Primack
Corinna Snyder
Demetri Tashie
2013
Douglas Lane Allen
Erica George
Jean "Biz" Hertzberg
Nancy Leeper
Ann Norton
Eva Salina Primack
Corinna Snyder
Demetri Tashie
2012
Douglas Lane Allen
Denys Carrillo
Erica George
Jean "Biz" Hertzberg
Nancy Leeper
Ann Norton
Eva Salina Primack
Sanna Rosengren
Corinna Snyder
Demetri Tashie
2011
Dan Auvil
Denys Carrillo
Erica George
Riccardo Heald
Brenna MacCrimmon
Ann Norton
Demetri Tashie
2010
Denys Carrillo
Erica George
Riccardo Heald
Brenna MacCrimmon
Linda Mucyn
Ann Norton
Michael Sensor
Demetri Tashie
2009
Dan Auvil
Denys Carrillo
Riccardo Heald
Brenna MacCrimmon
Linda Mucyn
Ann Norton
Michael Sensor
Demetri Tashie
2008
Dan Auvil
Denys Carrillo
Riccardo Heald
Brenna MacCrimmon
Linnea Mandell
Michael Sensor
Demetri Tashie
2007
Dan Auvil
Denys Carrillo
Emily Cohen
Matthew Fass
Gitry Heydebrand
Linnea Mandell
Michael Sensor
2006
Dan Auvil
Denys Carrillo
Matthew Fass
Emily Cohen
Gitry Hydebrand
Linnea Mandell
Michael Sensor
2005
Barbara Babin
Denys Carrillo
Emily Cohen
Matthew Fass
Gitry Hydebrand
Linnea Mandell
Jerry Summers
Michael Sensor
2004
Barbara Babin
Michelle Benoit
Emily Cohen
Matthew Fass
Gitry Hydebrand
Linnea Mandell
Janet Pollock
Martie Ripson
Randy Trigg
John Uhlemann
2003
Barbara Babin
Michelle Benoit
Belle Birchfield
Emily Cohen
Matthew Fass
Janet Pollock
Martie Ripson
Randy Trigg
John Uhlemann
2002
Barbara Babin
Michelle Benoit
Belle Birchfield
Julie Lancaster
Janet Pollock
Martie Ripson
Randy Trigg
John Uhlemann
2001
Michelle Benoit
Belle Birchfield
Laura Blumenthal
Mike Gage
Julie Lancaster
Lise Liepman
Yves Moreau
Mark Primack
Martie Ripson
Matt Smith
Randy Trigg
John Uhlemann
2000
Laura Blumenthal
Mike Gage
Melanie Goldberg
Julie Lancaster
Lise Liepman
Yves Moreau
Mark Primack
Matt Smith
1999
Laura Blumenthal
Mike Gage
Lynette Garlan
Melanie Goldberg
Julie Lancaster
Mark Primack
Yves Moreau
Matt Smith
1998
Belle Birchfield
Laura Blumenthal
Mike Gage
Lynette Garlan
Dennis Godfrey
Melanie Goldberg
George Long
Yves Moreau
Judy Newland
Matt Smith
1997
Jerry Agin
Belle Birchfield
Mike Gage
Lynette Garlan
Dennis Godfrey
Melanie Goldberg
George Long
Judy Newland
1996
Jerry Agin
Belle Birchfield
Jeanne Busch
Michael Leach
George Long
Dennis Godfrey
Lynette Garlan
Joe Mandell
Judy Newland
Christine Vida
1995
Jerry Agin
David Bilides
Belle Birchfield
Jeanne Busch
Dennis Godfrey
Michael Leach
George Long
Joe Mandell
Christine Montross
Laura Pannaman
Vlad Popovich
Steve Ramsey
Danilo Yanich
1994
David Bilides
Jeanne Busch
Michael Leach
George Long
Margaret Loomis
Rachel MacFarlane
Christine Montross
Laura Pannaman
Vlad Popovich
Steve Ramsey
Danilo Yanich
1993
David Bilides
Bill Cope
Michael Leach
Mark Levy
George Long
Margaret Loomis
Rachel MacFarlane
Miamon Miller
Christine Montross
Laura Pannaman
Steve Ramsey
Sonia Tamar Seeman
Carol Silverman
Danilo Yanich
1992
David Bilides
Bill Cope
Jerry Kisslinger
Mark Levy
Miamon Miller
Sonia Tamar Seeman
Carol Silverman
1991
David Bilides
Bill Cope
Jerry Kisslinger
Mark Levy
Miamon Miller
Sonia Tamar Seeman
Carol Silverman