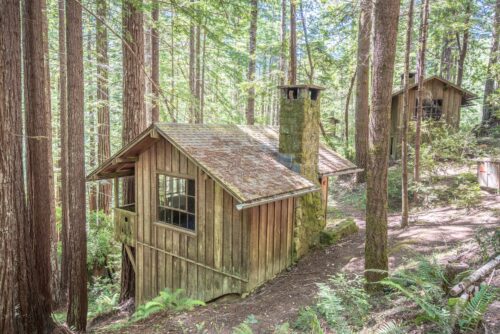 The Facility
The Mendocino Woodlands is located in a beautiful redwood forest near the Northern California coast, 175 miles north of San Francisco. A half an hour inland from the scenic town of Mendocino, our camp has three clusters of rustic (no electricity), four-person enclosed cabins on somewhat hilly terrain with stone fireplaces and balconies, a spacious dance hall, and plenty of tenting sites. Each cluster has its own bathhouse with lights and hot showers. Between classes you can hike in the forest or take a dip in the swimming hole in the nearby river.
The Workshop
The Mendocino Workshop runs from Saturday evening to the next Saturday morning. Classes begin Sunday morning, and are held each day through Friday. Following a review session Friday morning, participants have the option to perform in a student concert. The week closes on Friday with a Balkan-style lamb roast and the last of the week's great evening parties. We have part-time attendance options available. (Please note that this year we will not be offering an evening-party-only option. Check out our B&B option if you would like to come up for a night.)
The Program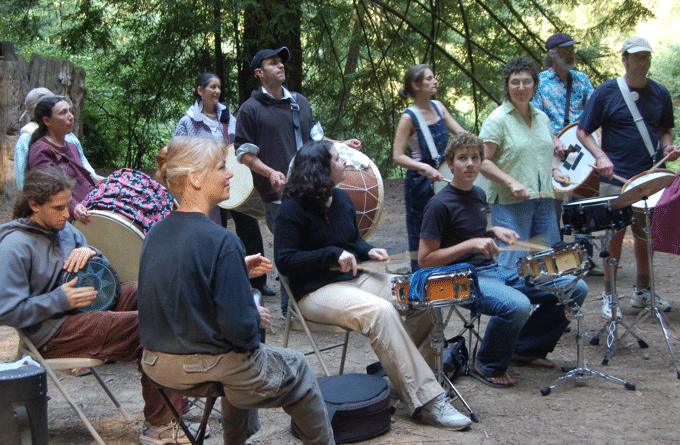 A broad array of instrumental, vocal, ensemble, and dance classes at all levels are offered across five daily 75-minute class slots. We provide an instrument-lending program to enable new students to get started on harder-to-find village instruments. In the early evenings the program includes folklore presentations and panel discussions, group sings with musical accompaniment, and our fun, community-building auction. Live-music dance parties featuring our world-class staff musicians will rock your socks in the dance hall, and the party continues late into the night in our more intimate cafe-bar, the kafana, featuring a variety of staff and camper musical sets, from the sublime to the floor-stomping. See a sample daily schedule.
Food
The workshop features three delicious meals a day and an evening snack, with selections to please both omnivore and vegetarian tastes.
Families
We welcome families! The Mendocino workshop features a youth band and kids' dance and singing classes; and children are also welcome and encouraged to take adult classes, according to their capabilities. Find more info on Kids at Camp.
Work Exchanges
Mendocino camp runs smoothly thanks to a hard-working crew of work exchange campers, who receive a partial tuition waiver (or a full waiver in some cases) in exchange for their work. Read more at the red Work Exchange tab above on this page, and apply here. The deadline to apply is May 1st. We appreciate you!

Cost, Registration, and Other Information
Registration for the 2023 Mendocino workshop is open. Click here for tuition information and to register. IMPORTANT: No registrations will be accepted within a week of the start of the workshop on June 17, 2023. Please make sure to get all your "paperwork" in by June 11, 2023. THANK YOU! Workshop updates are announced through our email Newsletter (sign-up if you haven't already), the EEFC listserv discussion group, and on our Facebook page.

2023 Teachers
Staff and class description listings are subject to update and change.
Dance
Instruments & Ensembles
Singing
For the Kids
Covid-19 Guidelines for Camp
Please review a full description of our Covid-19 guidelines and protocols here.

All About Camp Work Exchanges
The Mendocino Workshop runs smoothly thanks to a hard-working crew of work exchange campers, who receive a partial tuition waiver (and a few full waivers) in exchange for their work.
Work exchange folks have a job at camp, like washing dishes or cleaning bathrooms. In exchange for their hard work, they pay reduced tuition (in most cases 50%) to come to camp. Some jobs require special skills, experience, or knowledge of the workshop environment, others requiring lifting or standing, etc. Others are great for first-timers or require no special skills.
The Site Manager fields work exchange requests and helps manage the work exchange crews during camp, along with crew leaders who manage the larger crews.
What's the difference between a work exchange and a workshop scholarship?
A work exchange job means that you get assigned some work/duties at camp and in exchange some or all of your tuition costs are waived. A scholarship is different—with a camp scholarship, some or all of your tuition costs are paid by generous donors and you do not have any work duties at camp. If you have applied for and end up receiving a scholarship, you may withdraw your work exchange request. Please note that the Mendocino scholarship application period has already ended, and that scholarship decisions will be announced in April.
About the work and jobs:
Workers are required to arrive at camp by 4:00 p.m. the first day of camp and stay until 11:00 a.m. the last day. Note that we cannot accommodate part-time campers for work exchange. Work exchangers are also expected to be timely and responsible throughout the week (that means arriving to your shifts on time, getting the work done, etc.)
At Mendocino, the majority of work exchange positions are on the Dish Crew. Folks on the Dish Crew work two 90-minute shifts per day. There's a swap meeting the first night to trade around shifts and optimize your schedule, but it's still possible you may have to miss a class or two. Lots of the people on Dish Crew enjoy being part of a team, making friends, and having some additional structured time. (And everybody loves using the sink sprayer!) This is a great crew for first-timers, as no prior skills or knowledge of camp are required, and making new friends is quick and easy.
Other crews include Bath Crew (cleaning bathrooms/washhouses, taking out trash, some auxiliary setup of chairs/benches); Donation Store Crew (setting up, running, and closing down the Donation Store. Often includes pre-camp organizing get togethers in the Arcata area for those available); Kafana Crew (setting up, running, and closing down the Kafana. Includes lots of late-night shifts.) Other specialty jobs include the Gofer (town runs everyday for supplies), Medic, Stage Manager and Sound Techs in the Dance Hall and Kafana, Housing, Rides, Bedding, and other admin help. Many of these positions require special prior experience at camp or in a similar role.
How to apply:
Requests for work exchange will be collected on a rolling basis through May 1st. We encourage you to make your work exchange request early to ensure we have a spot for you. Jobs may run out, and date of request is strongly considered when assigning jobs to applicants. Please note that we can only accommodate full-week campers for work exchange, and that application for a work exchange position does not guarantee a work exchange position. Applicants who are offered work exchange jobs are expected to accept the commitment and register for camp within a timely manner. We look forward to having you on the team! Apply here.

Mendocino Woodlands Camp 1 Map
Use this map to help you decide which cabin or cabin area to request on your registration form. Please note that the central section (Cabins 17-31) is generally reserved for staff.
Click here to download a full-size PDF of this map.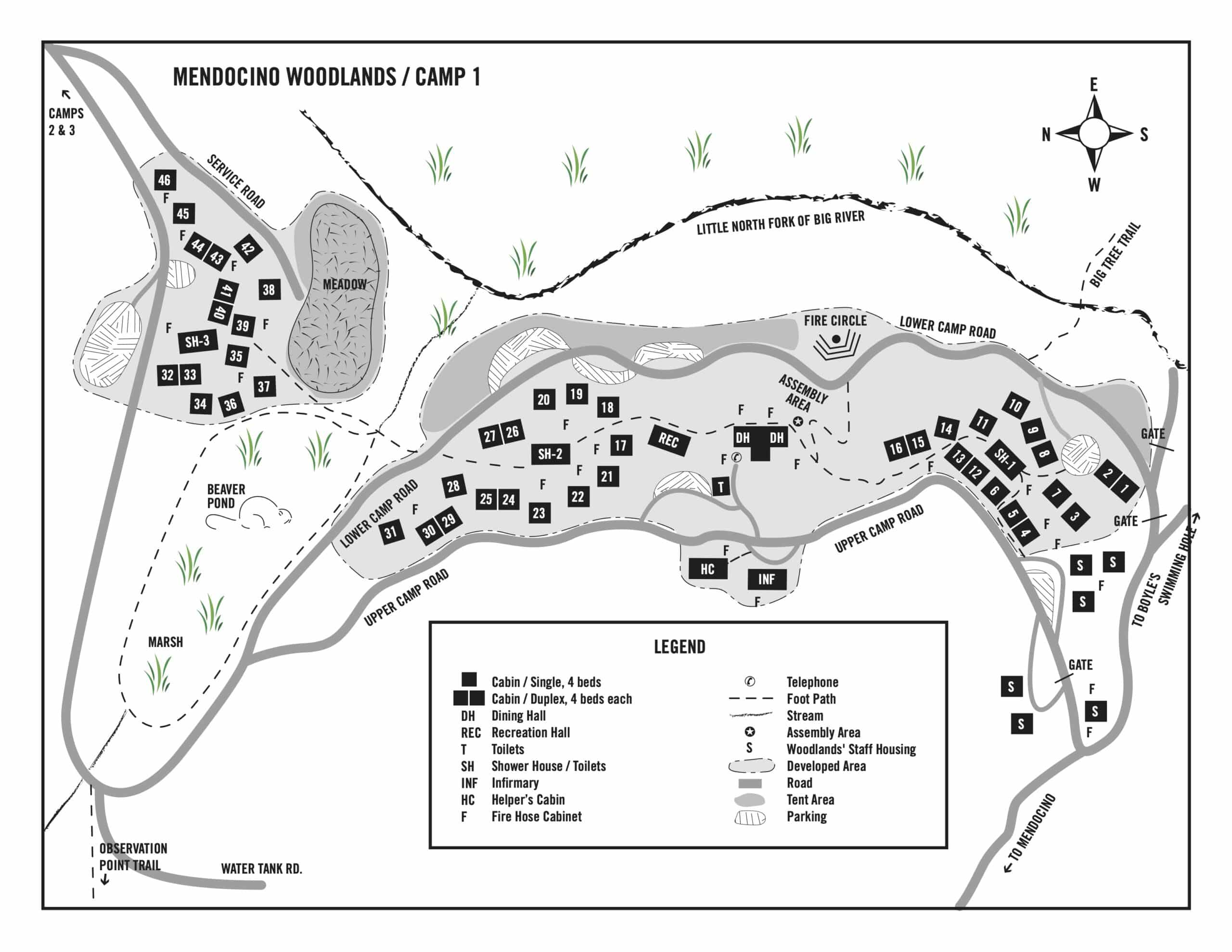 Getting to Mendocino
Mendocino Woodlands Camp One is in Jackson State Forest about 175 miles north of San Francisco, roughly 12 miles inland from the coastal town of Mendocino.
From the south, take Hwy 101 North to Cloverdale. Highway 101 bypasses Cloverdale, so take the Hwy 128 Fort Bragg/Mendocino exit (after a couple of Cloverdale exits). Some 60 miles later (twisty road, but gorgeous vineyard, redwood, and coastal scenery), take Hwy 1 North to Mendocino.
From the north (Oregon), take I-5 South to Grants Pass, then Hwy 199 to Crescent City. From there, take Hwy 101 South to Leggett. From there take Hwy 1 South (insanely twisty road to the coast, with the reward of breathtaking ocean views) to Mendocino.
From Mendocino, go east on Little Lake Road (Co. Rd. 408) from Hwy 1
(at stoplight) for 5.6 miles, then turn right on Co. Rd. 700 (winding dirt road). Drive for 4 miles to Camp One. Please drive slowly and carefully on this dusty road!
If you've never been to the Woodlands, plan to arrive before dark. Registration will be located just outside the dining hall.

Dine & Dance—Bed & Breakfast
Come for early evening activities, the dance party and the late night kafana. Then spend the night and enjoy breakfast before you hit the road!
Here's how it works:
6:00 p.m.: Arrive at our lovely redwoods site (see Directions tab above). Check in at the Kafana and set up your bunk. Join us for a delicious dinner, starting at 6:30.
Then take in a folklore presentation, singalong, or join in our auction. Dancing to live music begins in the main hall generally around 9:00.
Our Kafana in the woods is a bar and a club, and a place where much music and merriment happens into the wee hours. Stay as long as you like!
Sleep in a bunk with the bedding you brought from home.
Roll out of bed, have breakfast by 9:30 a.m., and hit the trail by 10.
All this can be yours for $135. A cheap hotel in Ft. Bragg (forget the town of Mendocino), easily runs twice as much and provides no options for gajda, rakija, čočeks, or çiftetelli!
HOW TO REGISTER
Use our online form to register for the Bed & Breakfast option. See the red "Register Now" button above. Note that you must follow the same procedures, timelines, and protocols as all other camp registrants.

Evening Schedule

Note: Schedule is subject to change
Culture Corners and Group Sings begin at 7:45 p.m. Dance parties, unless noted, begin at 9:00 p.m.
Saturday
Dance
A Balkan Sampler!
Greek Zournadhes/Daouli with Eleni, Christos & Bobby Govetas
Bosnian & More with Mensur Hatić on accordion
Brass with Tano Brock and friends
Bulgarian with the Bulgarian Staff Musicians
Sunday
Special Dance Workshop (7:45-8:45): Dance for Musicians with Michael Ginsburg
Dance (9:00-)
Bulgarian—Bulgarian Staff Musicians
Epirot Greek—Drómeno
Monday
Group Sing—Croatian & Yugoslav: John Morovich
Dance
Greek Brass—Catherine Foster & Michael Ginsburg
Greek Island—Aya Safiya & friends
Tuesday
Auction Night (dance party begins around 10:00 p.m.)
Dance
Tamburica—John Morovich
Brass—Fanfare Zambaleta
Wednesday
Culture Corner: A conversation with Carol Silverman & special guest Alex Marković, topic TBD
Dance
Macedonian Village—Michele Simon, Mark Levy, Jerry Kisslinger & friends
Greek Zournadhes & Daouli—Eleni, Christos & Bobby Govetas
Bulgarian—Bulgarian Staff Musicians
Thursday
Group Sing—Macedonian & Bulgarian: Michele Simon
Dance
Rhodope Sing-Along—Mark Levy & Gajda Mafia
Brass—Benji Rifati
Greek—Drómeno
Friday
Student Ensembles play for your dancing pleasure (dance party begins at 8:00 p.m.)

Camper Information
Registered campers, click here to access information about camp life, accommodations, what to bring, and everything else you need to know as you prepare for the Mendocino workshop.