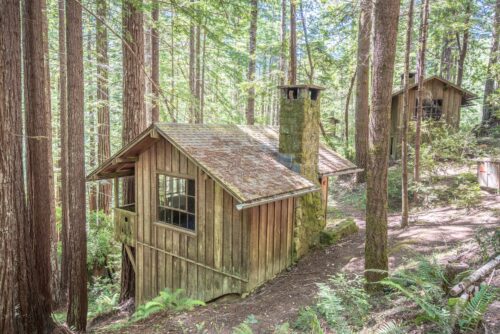 The Facility
The Mendocino Woodlands is located in a beautiful redwood forest near the Northern California coast, 175 miles north of San Francisco. A half an hour inland from the scenic town of Mendocino, our camp has three clusters of rustic (no electricity), four-person enclosed cabins on somewhat hilly terrain with stone fireplaces and balconies, a spacious dance hall, and plenty of tenting sites. Each cluster has its own bathhouse with lights and hot showers. Between classes you can hike in the forest or take a dip in the swimming hole in the nearby river.
The Workshop
The Mendocino Workshop runs from Saturday evening to the next Saturday morning. Classes begin Sunday morning, and are held each day through Friday. Following a review session Friday morning, participants have the option to perform in a student concert. The week closes on Friday with a Balkan-style lamb roast and the last of the week's great evening parties. We have part-time attendance and evening party-only options available.
The Program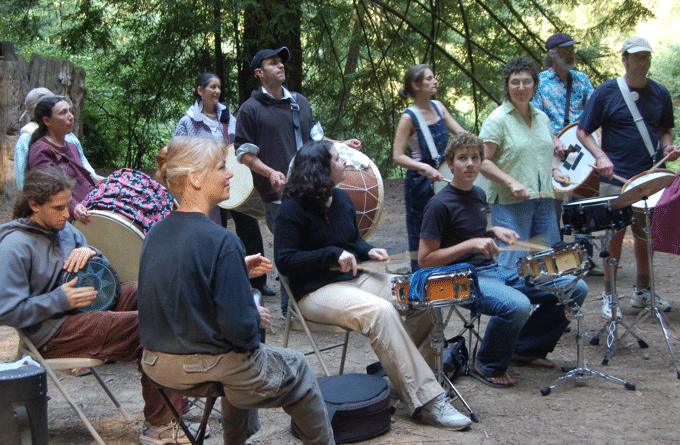 A broad array of instrumental, vocal, ensemble, and dance classes at all levels are offered across five daily 75-minute class slots. We provide an instrument-lending program to enable new students to get started on harder-to-find village instruments. In the early evenings the program includes folklore presentations and panel discussions, group sings with musical accompaniment, and our fun, community-building auction. Live-music dance parties featuring our world-class staff musicians will rock your socks in the dance hall, and the party continues late into the night in our more intimate cafe-bar, the kafana, featuring a variety of staff and camper musical sets, from the sublime to the floor-stomping. See a sample daily schedule.
Food
The workshop features three delicious meals a day and an evening snack, with selections to please both omnivore and vegetarian tastes.
Families
We welcome families! The Mendocino workshop features a youth band and kids' dance and singing classes; and children are also welcome and encouraged to take adult classes, according to their capabilities. Find more info on Kids at Camp.
Work Exchanges
A few partial-tuition-waiver work exchanges may be available for full-week participants. You may apply once registration is open (see below).

Cost, Registration, and Other Information
Workshop registration for 2023 will be open in early spring of 2023. Stay tuned! Workshop updates are announced through our email Newsletter (sign-up if you haven't already), the EEFC listserv discussion group, and on our Facebook page.

2023 Teachers
Our teaching staff is still in process. Please check back often as we add names to the list! Staff and class description listings are subject to update and change.
Dance
Instruments & Ensembles
Singing
For the Kids
Getting to Mendocino
Mendocino Woodlands Camp One is in Jackson State Forest about 175 miles north of San Francisco, roughly 12 miles inland from the coastal town of Mendocino.
From the south, take Hwy 101 North to Cloverdale. Highway 101 bypasses Cloverdale, so take the Hwy 128 Fort Bragg/Mendocino exit (after a couple of Cloverdale exits). Some 60 miles later (twisty road, but gorgeous vineyard, redwood, and coastal scenery), take Hwy 1 North to Mendocino.
From the north (Oregon), take I-5 South to Grants Pass, then Hwy 199 to Crescent City. From there, take Hwy 101 South to Leggett. From there take Hwy 1 South (insanely twisty road to the coast, with the reward of breathtaking ocean views) to Mendocino.
From Mendocino, go east on Little Lake Road (Co. Rd. 408) from Hwy 1
(at stoplight) for 5.6 miles, then turn right on Co. Rd. 700 (winding dirt road). Drive for 4 miles to Camp One. Please drive slowly and carefully on this dusty road!
If you've never been to the Woodlands, plan to arrive before dark. Registration will be located just outside the dining hall.

Evening Schedule
Stay tuned! The Mendocino evening party and activity schedule will be posted at a later date.