About Stefni Agin (1946 – 2008)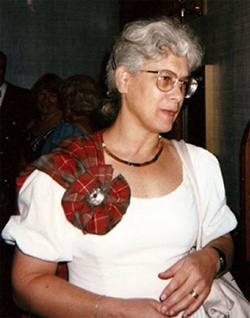 Stefni Anne Winter Agin died on September 4, 2008, after a 17-month battle with cancer.
She was born in Long Beach, CA, in 1946. Her parents met each other folk dancing, but her father died when she was only 5 years old. When she was 16, her mother started taking Stefni to folk dances in the San Francisco Bay Area. She loved it, and soon was a participant in Scottish Country Dance under the direction of Stuart Smith, and a member of the Sokoli Balkan Dance Ensemble.
She met her husband Jerry at a Kolo dance. Jerry had two children from a former marriage living with him, Rebecca and Miriam, who were 7 and 5 years old at the time Stefni and Jerry married. Stefni took over mothering duties, and helped raise these two girls to adulthood.
The family moved to the Pittsburgh area in 1979. Stefni and Jerry were members of the Tuesday Night Folk Dance group and the Royal Scottish Country Dance Society. She was a frequent attendee at folk singing and storytelling events. In 1975 and 1976 Jerry and Stefni attended a summer camp at Sweets Mill, California, which was a precursor to the Balkan Music & Dance Workshops. Stefni first went to Balkan camp at Buffalo Gap, WV, in 1986, and she and Jerry attended every East Coast workshop up to her passing.
Stefni earned a B.A. from San Jose State University, and studied in the Folk Arts Program with the Tamburitzans at Duquesne University. From 1987 until 1998, she was employed by the University of Pittsburgh as a secretary in the Intelligent Systems Program. From 1998 to 2008 she was active as a volunteer tutor of English as a Second Language through the Greater Pittsburgh Literacy Council. Stefni was a founding member of The Balkan Babes, a women's vocal group that has performed at festivals around Pittsburgh over the last decade and a half.
Stefni was a great collector. She owned nearly 30 complete folk costumes from around the world, principally from the Balkans. Many of her costumes were purchased during her numerous trips overseas. She also had an extensive collection of books about costumes and folk music, as well as numerous recordings of all types. Stefni's bright and graceful presence is missed in our community.