Camper Information East Coast
East Coast Balkan Music & Dance Workshop
Welcome to the 2023 Iroquois Springs Balkan Music & Dance Workshop! Here are details about camp life, accommodations, what to bring, and how to get there.
Page updated 8/1/23.
Click on links to jump to sections below.
Note that information is subject to change and updates.
Please see the East Coast Registration page for full information about our registration, refund, and cancelation policies. Please don't forget to fill out the Risk & Liability Waiver Form and to submit your Proof of Vaccination as soon as possible, no later than a week before camp begins.
(back to top)
Please take a moment to review our Covid Guidelines, especially keeping in mind our instructions regarding testing before and during camp.
(back to top)
Download a printable PDF here. This document includes important phone numbers, addresses and emails' and a handy checklist for packing. Driving directions, as well as information on buses to Monticello (near Rock Hill) are located on the East Coast Workshop page under the red tab marked Directions.
(back to top)
If you need help finding transportation to camp, please fill out this form provided by our Ride Coordinator, Bonnie Silver, who will try to assist you in arranging a ride to Iroquois Springs. Please make your own arrangements if possible. We must accommodate teaching staff first, but we can connect you with others who have space in their cars or who may be willing to share the cost of a rental car.
If you have a car, we need your help transporting teachers, campers, and camp cargo! Please help us out by filling out this form if you can lend a hand, and if you have spare bedding you can lend to long-distance travelers. Thanks!
(back to top)
Arrival. The Workshop begins on Saturday afternoon, August 5th. You are welcome to arrive any time after 3 p.m. Don't expect anyone to be available to register you before 3 p.m. You MUST park in the designated parking area, which will be the upper lot beyond the Canteen/Kafana. Follow the signs or camp staff directions when you arrive. After you park, volunteers will ask you about your morning Covid antigen test, and will give you a kit to test yourself if you didn't have a chance to do so earlier in the day. Fill out a car ID form (available at the check-in desk in the parking lot) and leave it on the dashboard of your vehicle. Leave your luggage at the designated spot and the camp staff will transport it to the flagpole in the center of the cabin area. There are NO roads within the camp area on which you may drive your car. Find the Health Center Porch to complete your check-in, get your housing assignment, name badge and camper folder. At 6:00 registration moves to the Front Desk in the Theater/Dance Hall. If you arrive after 6:00, please go there to find your housing assignment. Either carry your own belongings or ask at the Front Desk in the Dance Hall for help with your luggage. Please understand that if you arrive after check-in, there are no guarantees that you can get immediate help with your luggage. You will either have to wait until someone is available to help or be prepared to carry your belongings from car to cabin.
Part-time check-in at the Front Desk in the Dance Hall/Theater at 5 p.m. on your scheduled arrival date. Plan to arrive between 5 and 6; dinner begins at 6:30. If you do not find a staff person near the Front Desk to check you in, please call Site Manager Nancy Butowski at 410-490-8473.
In general, make arrangements with Suze (see Accommodations & Facilities section below) as soon as possible for any late or weird arrival times.
Departure. We must completely vacate the premises by 10:00 a.m. on Saturday, August 12. No activities except a cold breakfast are scheduled for that day, so you will have just enough time in the morning to clean your cabin, pack, and say your goodbyes.
(back to top)
Iroquois Springs is located about 90 miles from New York City. It is a 120-acre campus cradled in the Catskill Mountains of southern New York State. The camp is divided into two sections by a country road: the East Side (a.k.a. Girls' Camp) and the West Side (a.k.a. Boys' Camp). Our workshop will mainly use the East Side of camp, bur we can use the lake area. The road through camp is a real country road with traffic, so please be very careful when crossing it, using the designated crosswalk when you do. We share the site with other groups, who will be housed in cabins on the West Side. Please respect other groups' spaces and avoid walking through their cabin areas. There will be some minor overlap of our populations at the Dining Hall, pool, and lake.
Housing. Most campers will be housed in one of a number of centrally located cabins varying in size, set in a semicircle near the Dining Hall and Dance Hall (a.k.a. Theater). The cabins each have a large, light, airy room with many windows, high ceiling, ceiling fan, knotty-pine paneling and multiple electrical outlets. The wood-framed beds are dorm-style and can be moved around, provided they are put back into their original places at the end of camp. The back of each cabin is walled off for the bath area (2 toilets, 2 showers, and a sink), and a storage area similar to a walk-in closet, with a wall of cubbies and hanging clothes area (short garments only—you should make other provisions for long dresses and skirts). Each cabin has a great front porch wide enough for several people to sit, socialize, or play music.
Tenting. If you prefer the privacy of a tent, you may set it up near the woods behind the Dance Studio. Note that the site does not allow tents to be pitched next to or between cabins.
If you have questions or concerns about your housing, please contact Housing Coordinator, Suze Stentz (email or phone 919-265-7534).
(back to top)
Download a handy packing checklist here.
Weather. Temperatures average from the mid-60s at night to the mid-80s during the day. Generally, the days will most likely be pleasantly warm, the evenings may cool off, and expect occasional rain. Bring a sleeping bag, or sheets and a blanket, pillow, towels, toiletries and rain gear. Note that there are no washers/dryers at our disposal. The nearest laundromats are in Monticello (10-min. drive). Please consult the checklist for more packing recommendations.
For classes, you will also need your musical instruments, song words, a recording device, and extra chargers. Don't forget your EEFC songbook for group sings. For dancing, bring comfortable clothes and supportive dance shoes—very important as the new Dance Hall/Theater floor is wood laid over concrete.
Camp life. No smoking is allowed in any buildings or on any porches. There will be two designated smoking areas, one outside the Theater/Dance Hall and the other outside the Canteen/Kafana. There is a spring-fed lake where there are canoes and kayaks available for use. Life jackets must be worn at all times at the lake, and there is no boat use after dark and no swimming at all in the lake. There are also two large swimming pools, where you may swim at designated hours; children must be supervised at all times. Lifeguards' hours will be posted. Out of respect for other groups we share the site with, no skinnydipping will be permitted.
(back to top)
Staying healthy at camp is a priority for all of us. In addition to our Covid protocols, there are lots of other important ways to stay healthy! Basic first-aid items are available at the Health Center for your bumps and bruises. Please bring with you any medications and pain or allergy relievers you think you will need. If you did not do so on your registration form, please let us know if you have any medical conditions that we should be aware of. This information will be kept strictly confidential. No official medical care, diagnosis, treatments, or prescriptions are available on site. In the event of a medical emergency, alert camp staff immediately.
(back to top)
No pets of any sort are permitted on the Iroquois Springs site.
(back to top)
Delicious and plentiful meals will be prepared by the Iroquois Springs kitchen. A vegetarian option will be available for those who requested it on the registration form. We aim to please, but we cannot be responsible for special diets other than vegetarian (ovo-lactarian, i.e., including some dairy and eggs, though there are vegan options generally available). Also, you cannot be a selective vegetarian. If you sign up as a vegetarian, it is a decision you must follow for the entire week. If you have any dietary allergies the kitchen staff should be aware of, please inform a registration worker, who will direct you to the appropriate kitchen staff person. Please provide for yourself regarding other dietary requirements.
(back to top)
At registration, all campers are expected to sign up for volunteer work assignments during the week. This may include administrative tasks such as the auction, or assisting at the Front Desk or Henry's Store, or with food or beverage service for the evening snack and at the nightly kafana. In order to keep our costs down, we rely on your assistance in these simple (and often fun) volunteer tasks. Please remember to show up for your chosen task! We truly depend on this extra help, and you might just meet some great new friends on your shift!
We need everyone's assistance in the final clean-up at the end of camp. After cleaning up your cabin, bag the trash and leave the trash bag on your porch. Please help us clean the common areas and bring any lost-and-found items to the Health Center. If everyone spends half an hour at the end of camp tidying up their area and part of the common areas, the task won't fall on just a few (undoubtedly weary) shoulders. Thanks!
(back to top)
We value and welcome children at our workshops, but remember that your kids are your responsibility at all times. Please be aware that EEFC rules state: "In the event a child is allowed to remain unsupervised in a dangerous situation after being warned by the EEFC Staff, the EEFC Staff have the authority at their discretion to require that the family leave the camp."
Kids + Parents/Guardians Meeting. On Sunday, during lunch in front of the Health Center, all kids, their parents or at-camp guardians, and Balkan camp administrative staff members will meet so we can all get to know each other. At this meeting we will also set behavior guidelines together. This meeting is mandatory for all parents/ guardians and kids age 2-17, who all get to jump to the head of the lunch line to attend!
(back to top)
Along with great live musical entertainment, our evening Kafana café-bar and grill offers a wide selection of alcoholic and non-alcoholic beverages for sale. But please be aware! Even though we're on vacation from the Real World, we still must follow New York law—we cannot serve nor sell alcoholic beverages to people under 21 years of age. We trust that if you or your loved ones fall into this category, you'll help us comply with these restrictions. Campers who violate this policy (either underage drinking or providing alcohol to an underage camper) may be expelled from the workshop.
(back to top)
A complete schedule will be distributed at registration. The first day officially begins with dinner at 6:30 p.m. on Saturday, August 5th. At 8:00 we will have an orientation session where you can meet the staff and your fellow campers. At this session, we will provide an introduction to the facility and the workshop. The teaching staff will briefly discuss and demonstrate what will be covered in classes. After the meeting, we will check out instruments to those who have signed up in advance to borrow them. The first of our nightly dance parties will end Saturday's activities. Classes begin on Sunday morning. Please be prepared for the possibility that some of the classes you are interested in may be scheduled at the same time. We do our best to arrange a logical mix of classes over the five time slots, but some overlaps are unavoidable. We trust that, in any case, you will find plenty of activities to keep you happy, busy, and thriving at camp.
New camper? Balkan camp can be a pretty intense experience your first year! To make it a little easier for you, a gracious volunteer will be pairing you with an experienced camper to help "shepherd" you through the week. And on Sunday you and your "shepherd" are cordially invited to a special New Camper Happy Hour at 6:15 in the Dance Hall!
(back to top)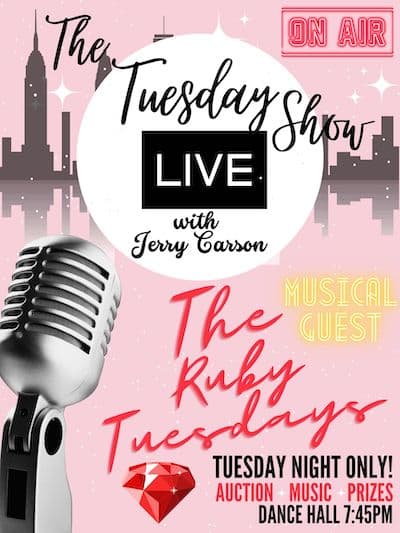 You're invited to join our LIVE studio audience for a special 40th-Anniversary taping of The Tuesday Show! Your charismatic host, Jerry Carson, will be showcasing all your favorite items in his signature auctioneer style. Help make "ruby" anniversary magic—donate your items, serenades, experiences, and more—all to benefit EEFC, its programs and scholarship funds! For details and information, contact the Producers: Corinne & Myra. And don't forget to wear your dancin' shoes—house band The Ruby Tuesdays will be in town providing live entertainment you won't want to miss! Come for the music, stay for the banter, and maybe even go home with a prize! Live from Rock Hill, it's TUESDAY NIGHT!
And, pssst! there will be a silent auction on Wednesday for items not featured in the live auction, which may include clothing, books, recordings, embroideries, and other nice-quality and singular objets donated by you and your fellow campers.
(back to top)
Bring your own instruments, and any you are willing to lend others, especially if you've listed them on your registration form. We usually need extra tapans, doumbeks, frame drums, Thracian and Rhodope gajdas, tamburas, and kavals. Remember to label instruments you are lending. If you need to borrow an instrument, we'll do our best to provide one for you, but it may not always be possible. If you want to study standard "Western" instruments (clarinet, accordion, etc.), please bring your own. If you can lend instruments or need one and did not indicate so on your registration form, please contact our Instrument Coordinator, Richie Leonard (email; 919-265-3956). Richie will pass out instruments on site after the orientation meeting to those who have requested them in advance, and will collect them after the ensembles play on Friday night.
(back to top)
Our late-night Kafana is a magical cafe-bar and grill with a full selection of alcoholic and zero-proof beverages for sale, as well as a grill that features Balkan specialties, including ćevapčići and other grilled meats, succulent grilled veggies, and cold meze selections such as ajvar, tzatziki, sausages, and more, sourced from specialty groceries in NY and NJ. The Kafana is also a place for live musical entertainment, featuring teaching faculty, fellow campers, and you! If you would like to perform in the Kafana, please contact Kafanamajstor Matt Smith ASAP by email or text/phone: 908-581-7832.
(back to top)
Please be considerate about audio or video recording. During classes, ask your teachers if they mind if you record the class. Outside of classes, we have an open recording policy, but please be as sensitive and unobtrusive as possible.
(back to top)
Your registration fee covers all the essentials—housing, food, classes, and activities. You might want to bring extra cash for drinks and snacks from Henry's Store in the Dance Hall, and accessories from the Jewelry Donation Store. (And remember: all profits from the Stores go straight to EEFC!) The late-night Kafana sells delicious food and has a cash bar. The wares of various vendors (musical instruments, costumes, clothing, jewelry, recordings, etc.) will be on sale at the workshop.
(back to top)
Folks with items (recordings, costumes, books, jewelry, etc.), or services (massage, instrument repair, etc.) to sell at camp are considered vendors. If you have not indicated on your registration that you are a vendor, please contact us right away so that we can plan space for you. When you register at camp, please confirm with us that you are a vendor so that we can let you know where to set up. Space is available on a first-come, first-served basis. We neither encourage nor discourage vendors, but we do require a 10% commission on your gross sales, which will be collected at the end of camp. You keep the books. Please be responsible for monitoring your receipts—especially cash. At camp, see the Site Manager if you have any questions.
(back to top)
This store is a great place to find jewelry pieces from the unique to the elegant to the whimsical. Everything in the store has been donated, and 100% of the price of each item goes to the EEFC! Everyone is encouraged to bring things to add to the Jewelry Donation Store's inventory. For inquiries or to donate items before camp, please email us at office@eefc.org.
(back to top)
Cell phone reception is generally available on site, though we ask that you use courtesy and discretion when using your phone to make calls and text (remember, we're on vacation from the Real World). Iroquois Springs also has free WiFi connectivity.
(back to top)
SEE YOU AT CAMP!