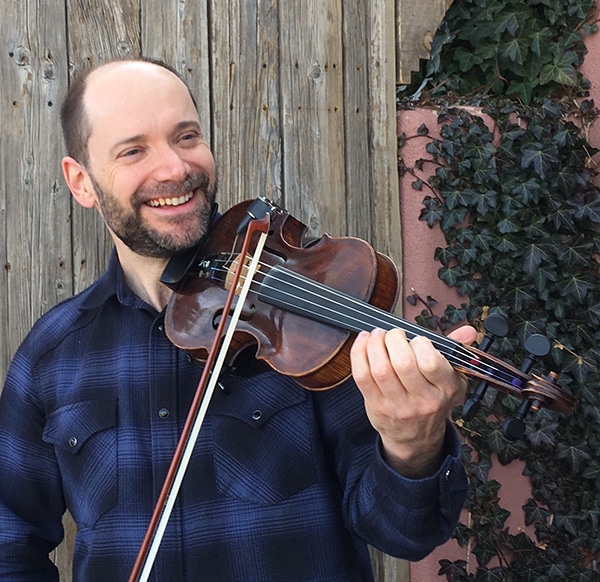 Ari Langer
Violin
Ari Langer grew up in Ashland, Oregon, where he studied classical violin, performing in solo competitions and with local string quartets and orchestras. He took a sharp left turn to attend the alternative Evergreen State College in Olympia, Washington, in the midst of the early '90s "grunge" scene. After graduating in audio engineering and music composition (focusing on quirky pop songwriting and electronic music), Ari toured Europe with traditional Irish outfit Draiocht, then composed music for independent films in the San Francisco Bay Area.
Ari's life was forever changed when he went to his first Balkan Music & Dance Workshop in 1998, and shortly thereafter was invited to join the band Edessa, with whom he's been playing ever since. With this band, he has immersed himself in the repertoire and styles from throughout the region, and has performed in the U.S, Canada, Mexico, and Japan. His primary teachers have been George Chittenden, Lise Liepman (both from Edessa), Beth Cohen, and Rumen Sali Shopov. Additionally, Ari has studied with Turkish Roman violinist Hüsnü Tuzsuz in Istanbul, and Epirot violinist Kostas Karapanos in Ioannina, Greece.
When teaching, Ari loves to help classically trained players (and anyone else) get closer to those elusive Balkan and Greek violin sounds, and play and improvise with less constriction and more freedom.
Class Description | Intermediate/Advanced Violin
Class repertoire will focus on mostly Greek repertoire, and perhaps tunes from elsewhere in the Balkans. We will emphasize breaking down "the sound" through ornaments and exercises.
We will work on technique, ornamentation, and improvisation by way of a few select tunes, rather than focusing on building as much repertoire as possible.
Repertoire will be taught by ear at a fairly rapid pace.
Repertoire will be made available online before camp.
Schedule allowing, I'm available for additional instruction outside of class.
The class will perform at the Student Concert.
Audio clips: