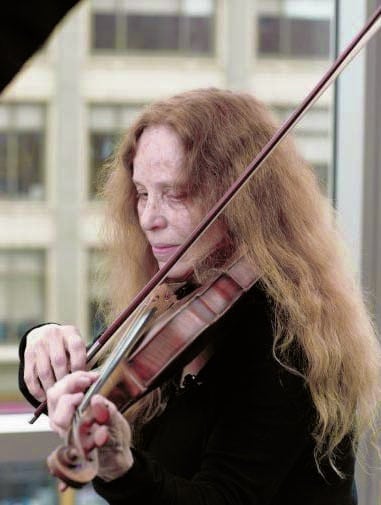 Beth Bahia Cohen
Culture Talk: Art of the Bow
Beth Bahia Cohen has spent a large part of her career exploring how the violin is played in various cultures. Of Syrian Jewish and Russian Jewish heritage, she was inspired at a young age by the sounds she heard at family gatherings. She has been playing traditional Greek music on the violin and several types of lyras for many years, learning from and performing with violin and lyra players from Andros, Sifnos, Kythnos, Crete, Epiros, Macedonia, and elsewhere. She has performed with New York dance groups GAFS and Akrites, as well as throughout the U.S. and Canada, in concerts, at Greek dance symposiums (FDF, HDF, etc), and more.
Beth is a founding member of Ziyiá, an ensemble performing Greek music from all regions that was started at EEFC's Mendocino Balkan Music & Dance Workshop, and has also performed with Vasilis Kostas, Christos Zotos, Petroloukas Halkias, Yiorgos Katsaros, and many other musicians. She has taught Greek Violin, Greek Ensemble, and Transcarpathian Ensemble at EEFC Mendocino and East Coast camps for many years. She also performs and teaches klezmer, Hungarian, Romanian, and Turkish music on the violin and other bowed instruments.
Beth is Assistant Professor at Berklee College of Music, where she leads the Berklee Greek Ensemble and the Berklee Global Strings Ensemble, and is an Applied Faculty member at Tufts University.
Beth was featured in our Kef Times Spring 2009 issue. She lives in the Boston area.