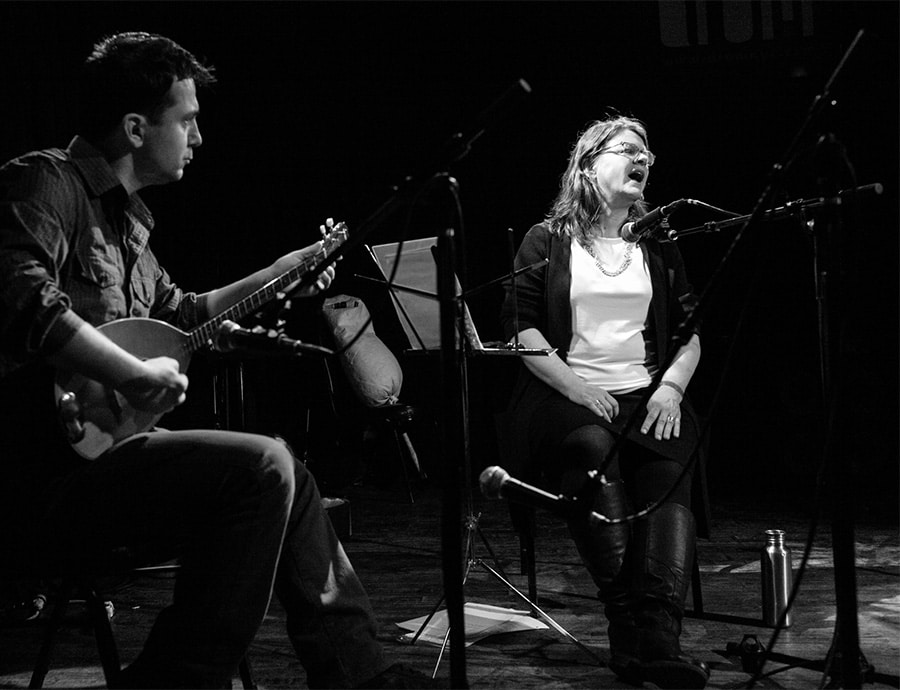 Corinna Škėma Snyder
Balkan Singing & Songs
Corinna Škėma Snyder was 12 when she started singing and studying women's music from the Balkans, first with the Cambridge Slavic Chorus, and then with Laduvane, both in Cambridge MA. She was drawn to the polyphonic, harvest and "slow songs" of Pirin and Shopluk, and studied for years with master singer Kremena Stančeva, a founding member of the Bulgarian National Radio and Television Choir. A grant from the Trust for Mutual Understanding gave her the opportunity to study with Kremena in Bulgaria and to perform with her in New York.
Corinna turned her focus to Macedonian music in the early 2000s, working with singers and musicians in the diaspora and in Macedonia. She does fieldwork in Macedonia, and has worked with musicians and singers including Vidanka Georgieva, Angele Dimovski, Goran Angelov, Stefče Stojkovski, Bajsa Arifovska, čalgija musicians from Skopje and Veles, and izvorno musicians from the northeast of Macedonia. She is a semi-regular performer and guest DJ on WFMU, performing live and playing field recordings. She was a founding member of, and composer for, Black Sea Hotel, the Grammy Award-winning Balkan vocal trio. More recently she has been performing traditional Macedonian music with three New York-based bands: Glas, Loza, and Niva, an all-women izvorno quartet with fellow EEFC teacher Kristina Vaskys, Zlatne Uste drummer Emily Geller, and accomplished end-blown flute musician Bridget Robbins. Corinna has taught vocal and ensemble workshops at Bucknell, the Westminster College of the Arts, Colby College, Syracuse, Bard, Colgate and Dartmouth.
Corinna also studies and sings sutartinės, archaic polyphonic women's songs from northeast Lithuania. She holds a PhD in cultural anthropology from Columbia University and lives in Brooklyn.