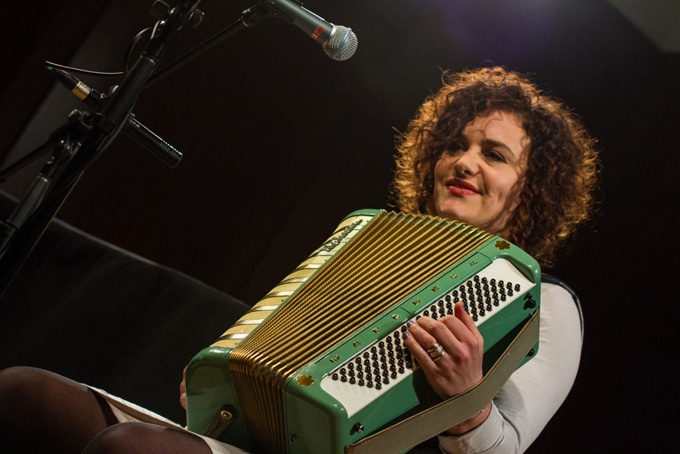 Eva Salina
Performance, Romani Singing
Based in Brooklyn, NY, for the last ten years, Eva Salina is a leading interpreter of Eastern European musical traditions, performing and teaching internationally. She attended her first Balkan Music & Dance Workshop in 1992, has been been mentored over the years by phenomenal musicians from the Balkans and beyond, and began teaching at the workshops in 2003. In 2016 she released Lema Lema: Eva Salina Sings Šaban Bajramović, recorded in New York and Serbia, on Vogiton Records. Lema Lema received acclaim from WNYC, NPR, fRoots, Songlines, Transglobal World Music Chart, and CMJ's New World & Jazz Radio Charts. A two-time OneBeat alumna and a 2015 New York Foundation for the Arts Fellow, Eva is devoted to innovation within tradition, and collaborations which foster mutual understanding between cultures.
Eva currently tours with Peter Stan, a Serbian/Romanian Romani accordionist. Their first duo album, Sudbina, released at the end of March, 2018, on Eva's Vogiton Records, is a portrait of Vida Pavlović, one of Romani music's most poignant, powerful women. Eva and Peter are featured artists at globalFEST 2018 and Balkan Night Northwest 2018.
In Brooklyn, Eva is musical director of The Jalopy Chorus, maintains an active private vocal studio, and coaches numerous professional and amateur vocal ensembles working in East European folk traditions. She is also currently working on an international collaborative project, "Jiyan: Songs of Displacement," focusing on women's roles in maintaining cultural identity and traditions. Eva's performing work centers around the beautiful variety of Romani musical traditions in the Balkans, and she is thrilled to share some of her favorite songs this year at Mendocino, in addition to her Performance Coaching workshop. For Eva's full performing and teaching resume, as well as tour dates and other media, please visit www.evasalina.com.
Music
CD Baby
Lema, Lema
Sudbina
Folkadelphia digital downloads
Class Description | Romani Singing
Schedule allowing, I'm available for additional instruction outside of class.
The Student Concert is optional, and the class will decide whether we perform.
We will focus on a selection of vintage Roma songs. Pronunciation, ornamentation, interpretation and regional styles.
We may collaborate with the brass band.
Repertoire will be taught by ear at a fairly rapid pace
Class Description | Performance Coaching
Schedule allowing, I'm available for additional instruction outside of class.
We will NOT perform at the Student Concert/Student Ensemble Party.
We willl focus on your individual performance practice in master class style format.
Discussions will include interpretation/style/identity/representation, as well as some higher-level technical work.
It's best if participants come prepared to share a song (from one of the Balkan traditions preferred, but we are somewhat flexible).
Repertoire will be taught by ear at a fairly rapid pace
This class is a performance laboratory, and a space to have intense discussions of both a personal and musical nature. Come prepared to listen and share.
Videos:
Articles:
Danas (Serbia)
Jutarnji List (Croatia)
NPR Weekend Edition