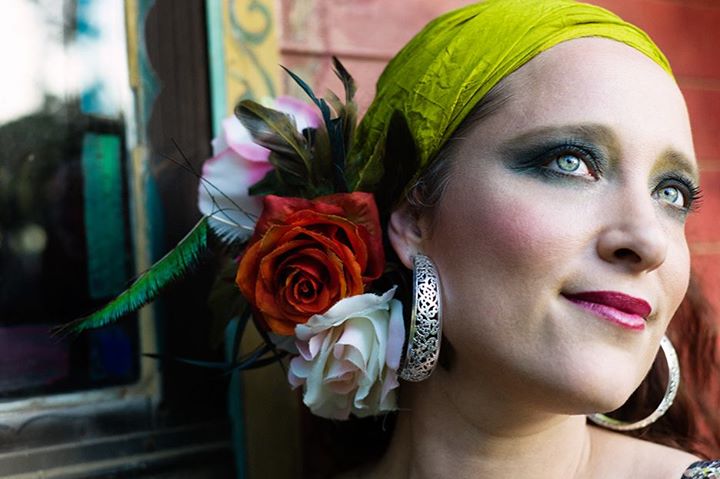 Jessaiah Zuré
Turkish Roman Dance
Jessaiah Zuré is a California native, the daughter of musicians. Raised primarily in the San Francisco Bay Area in a very creative and open environment, she was exposed to many styles of music and dance and had the opportunity to study them. At 19 she began to belly dance and soon thereafter found her teacher, Katarina Burda, who introduced Jessaiah to regional dances and songs from all over the Balkans, North Africa, the Roma people and the Middle East. When Jessaiah heard the Turkish Roman music, with that 9/8 rhythm and the big davul sound, she was hooked! This began her 10-year journey of living frequently in Istanbul, Turkey, where she studied Turkish Roman Dance, primarily with Reyhan Tusuz.
As the years progressed, Jessaiah has had opportunities to perform with legends, as well as gain deeper knowledge about the Turkish Roman culture with a variety of people including: Sonia Seeman, Selim Sesler and family, Tamer Kum, Katarina Burda, Rumen Sali Shopov, Stefka Shopov, Sonya Jašaroska, Eva Salina Primack, Bazooki Orhan, Anadolu Atesi, and more.
In Istanbul, Jessaiah was a featured dancer at many local events, weddings, shows, written about in newspapers and asked to be in movies as a dancer. Her presence there garnered much attention, as the Turkish people all said "she dances like a real Roman."
For 10 years now, Jessaiah has been teaching workshops and classes nationally and internationally, as well as at East and West Coast Balkan Camps and Middle East Camp at the Mendocino Woodlands.
Turkish Roman dancing uses the 9/8 rhythm and is mainly performed at weddings or other parties with live musicians. It is a street-style dance which continuously evolves through different movements and interpretations, being very personal in nature while still following traditional movements. The movements are very focused on an up motion of the pelvis, making the belly move up and down. There are a variety of hand gestures involved which make the dance tell a story, as well as endless foot patterns and interpretations. In class we will focus on embodying the pulse of the music, steps, gestures, and musicality. We will also learn the lyrics, melody, and clapping of some songs so we can sing and clap for each other while we are dancing.