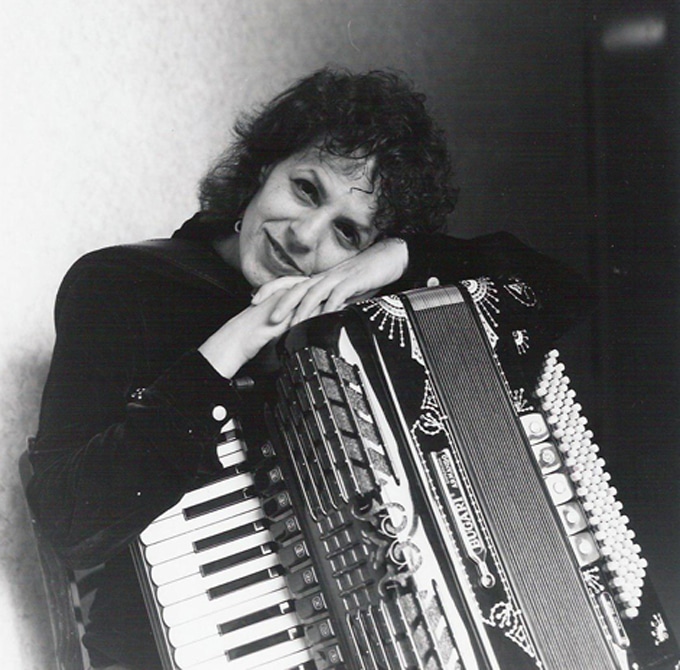 Lauren Brody
Balkan Singing
Lauren Brody was born in New York City, and has been involved with music since early childhood. A classically trained pianist, she received a B.A. in music from the City University of New York, and pursued a Master's Degree in Ethnomusicology before changing course to devote herself to the restoration and tuning of pianos.
While still a teenager, and an avid folk dancer, she became aware of Bulgarian music, and was so deeply impressed with what she heard that, in 1969, she made her solo first trip to Bulgaria. That initial trip sparked a lifelong interest and commitment to Bulgarian music and culture, with a particular interest in gadulka, singing, and later, accordion. In 1971 she received a stipend from the Bulgarian government to engage in postgraduate study in Bulgarian folk music at the State Music Conservatory in Sofia.
During one of her extended visits to Bulgarian in the early 1980s, Lauren was first introduced to the forgotten world of old 78 rpm recordings of Bulgarian folk music. In 1990, she received a grant from the Fulbright Foundation to research the old commercial 78 rpm recording industry in Bulgaria from 1900 to 1950. Her efforts resulted in the groundbreaking reissues Song of the Crooked Dance on the Yazoo label (1998), and the 4-CD collection Outsinging the Nightingale: Lost Treasures of Bulgarian Music (2010).
In addition to her research activities, Lauren has been an active performer and teacher of Bulgarian folk music and singing since the early 1970s. She was a founding member, singer, and gadulka player with Ženska Pesna, Pitu Guli and Novo Selo. She appears on two CDs as vocalist and keyboard player with the Yuri Yunakov Ensemble, and has been teaching at the EEFC workshops and other seminars since the early 1970s. Lauren leads a dual life as a klezmer musician, and has been a member of Kapelye and Mikveh, Alicia Svigals' Klezmer Fiddle Express, Soul Songs: Inspiring Women of Klezmer, and Tsoyber; and with whom she has appeared in films, recorded, and toured extensively through the U.S., Canada, and Europe. She is currently pursuing her own musical interests as a performer and composer as Lauren Brody's Accordion Bytes, and has been writing a blog about Bulgarian accordion playing at LaurenBrody.com/blog.
Lauren lives in New York City.
CDs are available at: www.songofthecrookeddance.com.
AUDIO FILES
"Ta shto mi e milo." Lauren Brody with Karen DeVries and Trakiiskata Troika, conducted by Kosta Kolev, Radio Sofia, Bulgaria, 1970
"Iskam ya, mamo." Yuri Yunakov Ensemble, Balada: Bulgarian Wedding Music, Traditional Crossroads, 1999