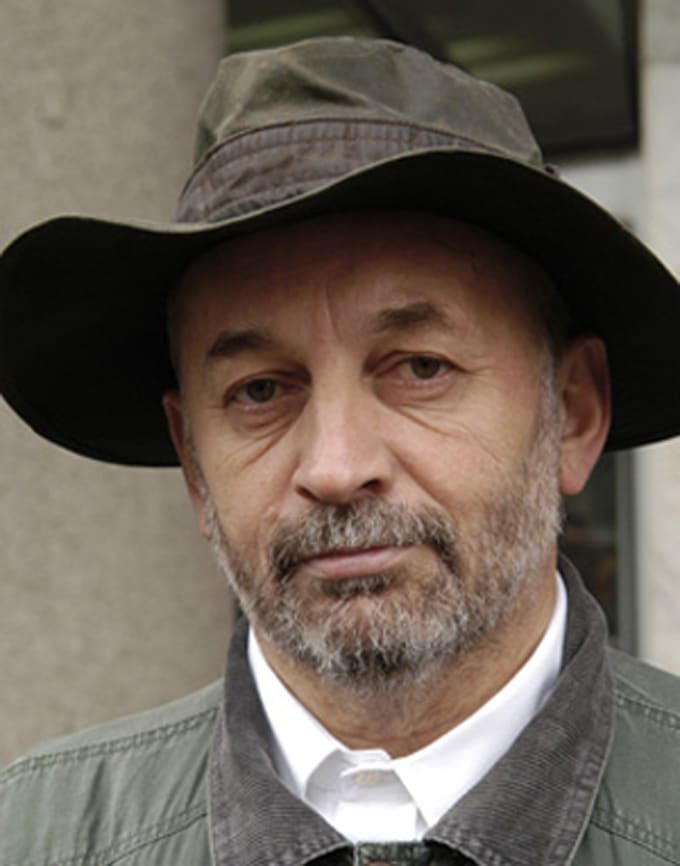 Ljubomir Živkov
Serbian & Yugoslav Singing
Ljubomir Živkov is a singer and tambura player from the Banat region of Serbia. He plays stringed instruments, primarily the tamburica instrument known as the basprim (brač). Ljuba was a member and music arranger for the Lole Ensemble, which was famous in the former Yugoslavia for choral renditions of songs from Vojvodina, Croatia, Macedonia, Bosnia, Dalmatia, as well as songs from surrounding countries.
He spent three years in Philadelphia (1992 to 1995), where he played with The Gypsy Balalaikas, and performed with Aljoša Sinjavski, a virtuoso instrumentalist from Russia. Ljubomir played music and sang with the Philadelphia Theatre Caravan for two seasons, and attended the Balkan Music & Dance Workshops three times.
Ljuba lives in Belgrade, where he still performs, increasingly he playing for other artists, providing studio recordings of music lines for the tamburica, domra, and prim. Lately, he has been recording his own Balkan music, both spiritual and folk styles, on a number of instruments on multiple channels, selections of which can be heard on his blog.
Ljubomir has a degree in Political Science (Journalism). He is a regular columnist for the weekly magazine Vreme, and for the online magazines Blic, Peščanik, and Istinomer.
Website: www.ljubomirzivkov.com
Email: ljzivkov@gmail.com
Class Description | Beginner and Intermediate Serbian & Yugoslav Singing
Beginners are welcome.
Schedule allowing, I'm available for additional instruction outside of class.
The Student Concert is optional, and the class will decide whether we perform.
Repertoire will be taught using sight reading charts.
We will build our repertoire with songs from Serbia, Bosnia, Macedonia, Croatia, and Bulgaria.
Other topics will include solo singing, polyphonic singing, ornaments, and technique. We will also learn to differentiate between rhythms and melodic styles from different geographical areas.
By the end of the week, students will be able to sing solo or in a group with the appropriate use of ornaments.
I aim to choose the most beautiful and most diverse traditional songs. The repertoire will be different from previous years.
Recordings of most songs will be available on CD before class starts.