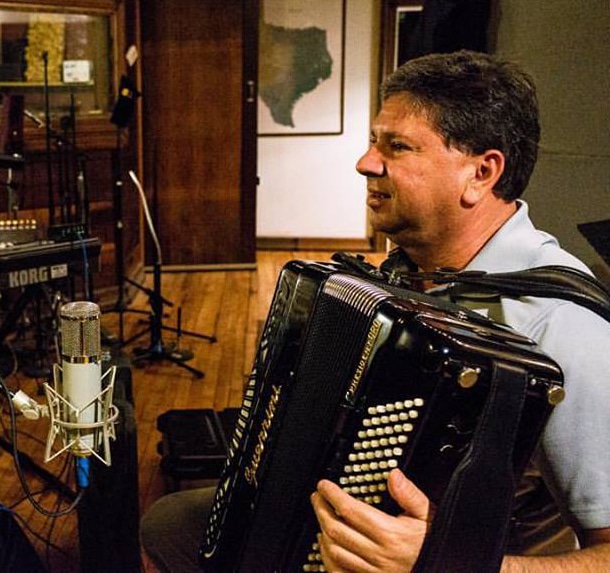 Mensur Hatić
Bosnian Singing, Accordion
Mensur Hatić, teacher of voice, accordion and piano, and promoter of Balkan music; was born and raised in Brčko, in northeastern Bosnia, and has been playing piano and accordion since the age of 8. He graduated from the Tuzla Music High School, and continued his college education at conservatories in Tuzla, Belgrade, Sarajevo and St. Louis. Mensur is manager, producer and radio host at WEW Radio 770 AM in St. Louis, where he produces a weekday show for the local Bosnian community, the largest urban settlement outside of Bosnia and Hercegovina. Several years ago he founded MIM Televizija, an Internet TV station that broadcasts to Bosnian audiences all over the world. He recently founded the Balkan Cultural Association (BCA), a not-for-profit whose mission is to help ease tensions between Balkan peoples, promote art and unite artists in the creation or audio and video work, and to promote their work at BCATV.
Mensur performs on accordion, keyboard, and vocals at a variety of venues all across the U.S. He has collected some of his favorites from his many years of playing, from classical to Balkan, in a CD entitled Last Stop: Brčko. He has just collaborated on another album, The Texas Room: Non-Fiction.
Class Description | Intermediate & Advanced Accordion
Beginners are welcome.
Schedule allowing, I'm available for additional instruction outside of class.
The Student Concert is optional, and the class will decide wether we perform.
This class plans to collaborate with Ljubomir Zivkov's singing classes.
Class will focus on technique and expanding repertoire.
Repertoire will be made available online before camp and taught using sight reading charts.
Feel free to send suggestions of what you like to learn to mimrtv@gmail.com. I'd love to hear your thoughts!
We will learn the following songs: Medino Kolo, Almino Kolo, Fort Polk, Ismar
Samples of class repertoire can be found here.