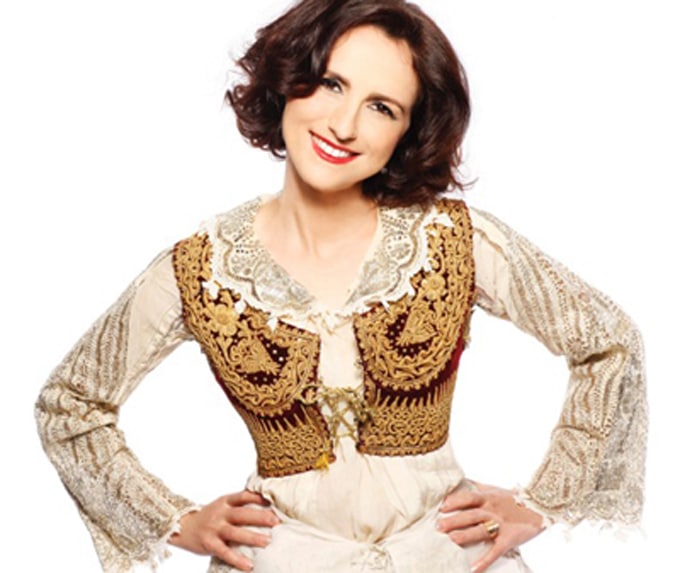 Merita Halili
Albanian Singing
Merita Halili is one of Albania's top performers. Born in the capital city of Tiranë, Merita grew up singing the lyric songs of her native region of Central Albania. Her nationwide debut came in 1983, at the age of 17, when she sang at the National Folk Festival in the town of Gjirokastër.
Soon afterwards she began to perform on Albanian Radio and Television and as a soloist with the State Ensemble for Folk Songs and Dances. She subsequently became one of the most popular singers in the country. Merita was among the first singers in Albania to release her own recording, which still sells briskly wherever Albanians live. Perhaps her greatest recognition came in 1995, when she was awarded first prize at a gala festival held in Tiranë in which 90 singers from throughout the Albanian diaspora participated.
The repertoire for which Merita is best known is that of the towns of Central Albania (Shqipëria e Mesme), particularly Tiranë, Elbasan, Kavajë and Durrës. As she was growing up, Merita modeled her singing not only on family music making but also on recordings of older singers. These included both taped performances housed in the Institute of Folklore in Tiranë, and performances broadcast on Albanian radio by two famous female singers of the previous generation, Hafsa Zyberi from Tiranë and Fitnete Rexha from Krujë, the latter of whom also coached her personally.
In collaboration with musicians and arrangers at Albanian Radio and Television, she then developed her own approach to these songs, which includes more elaborate instrumental arrangements and full use of her prodigious range and vocal technique. More recently, Merita has recorded several newly composed songs, as well as a few popular Turkish and Rom songs. Some of her best-known performances were featured in the soundtrack for the acclaimed Italian film Lamerica.