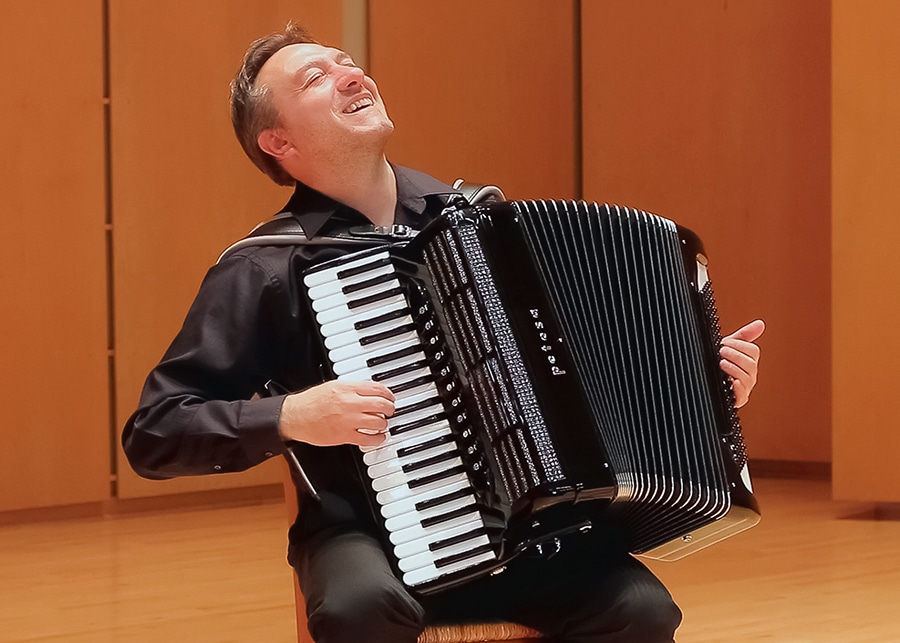 Milen Slavov
Bulgarian Accordion & Bitov Ensemble
Milen Slavov was born in the Thrace region of Bulgaria. He began playing piano accordion at the age of seven, performing on stage at age 8, composing and arranging at 16, and producing multimedia content at 24. Slavov studied music and performing arts professionally, graduating from the boarding music school "Filip Kutev" in Kotel, Bulgaria.
Milen's entrepreneurial drive and the need to express himself artistically inspired him to explore various opportunities—from touring, teaching, composing and producing—to the decision to move to another country. He emigrated to the United States in 1997.
Milen is a master piano accordionist performing, recording, and teaching Bulgarian music in traditional styles, and original world music fusion. His music is influenced by a Bulgarian, Balkan, and Eastern European heritage interwoven with a Western life experience. Milen's music often fuses fiery passages, lyrical motifs, dazzling improvisation, odd meters, and melodies with no rhythm. Slavov has performed and collaborated with numerous acclaimed musicians throughout the world, and he has appeared at the National Folk Festival (USA), San Antonio International Accordion Festival, Montmagny International Accordion Festival (Canada), San Francisco World Music Festival, and more.
Milen's teaching experience has gone through various stages and platforms —from teaching in Bulgaria at the music school he graduated from, to private music lessons throughout America, to classes and lectures at U.S. universities, to online music lessons. He was a guest teacher at the UCLA Department of Ethnomusicology for the 1998/99 academic year.
Website
Facebook
Slavman Video Streaming Channel
Class Description | Bulgarian Accordion
We will perform at the Student Concert/Student Ensemble Party.
This year we will learn two Bulgarian dance music tunes in traditional styles – Daichovo (9/8) and Kopanitsa (11/8).
We'll explore the application of musical ornaments, fingering, and dynamic expressions.
This will be a fun class for advanced and intermediate accordion players.
Repertoire will be taught using sight reading charts.
Class Description | Bitov Ensemble
We will perform at the Student Concert/Student Ensemble Party.
In this class we'll learn a short suite in traditional Bulgarian style. We'll start with a simple melody and expand with e few variations, to make a village-like danceable music piece.
A sheet music with the melody line and chords will be available; and we might explore, on the spot, some fun arrangement approaches.
Intermediate and advanced players of any instrument are welcomed.