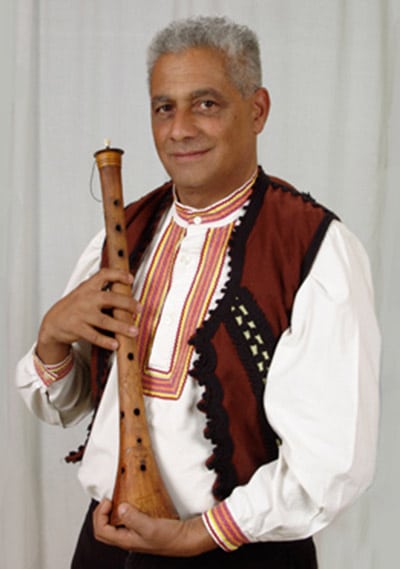 Milo Destanovski
Zurla, Macedonian Village Ensemble, and Macedonian Dance
Milo Destanovski is a Macedonian Rom choreographer and musician. He hails from the most respected family of zurla players in eastern Macedonia and carries on a tradition of zurla and tapan playing going back generations. Primarily a zurla player, he took first place for zurla at the Pece Atanasovski Festival in Prilep for 14 consecutive years, culminating in an overall grand prize win in 2008. He has also performed on numerous occasions with Tanec, Macedonia's national folk ensemble. In addition to zurla, Milo plays tapan, kaval, gajda, and is an experienced choreographer, having led the KUD Dimitar Pop Georgiev Berovski (Berovo, Macedonia's folk dance ensemble) for many years and having toured with them throughout the Balkans. Milo has been a guest teacher and performer at a number of folk dance groups throughout Southern California as well as at San Francisco's Kolo Festival, Chicago's Spring Festival, and the East European Folklife Center's East and West Coast workshops. In Macedonia, he has led his own seminars and has taught at seminars including Goran Alački's Macedonian Pearl Folk Seminar. Milo also appears in the 2014 Macedonian feature film Do Balčak (To the Hilt). He lives in Detroit, MI.
Email: etnokamp@gmail.com
Class Description | Macedonian, Romani, and Albanian Dances from Macedonia and Kosovo
Dances will range from beginner to advanced level, but all are welcome.
Dance repertoire will include popular and lesser-known dances from Eastern Macedonian as well as dances from Romani and Albanian communities in Macedonia and Kosovo.
We will focus on traditional as well as popular dances.
Accompanying music will include more traditional recordings as well as the latest Romani wedding and brass band hits.
The class will emphasize style and form.
We will not perform at the Student Concert.
Class Description | Macedonian Village Ensemble

This class is designed for intermediate to advanced players of traditional Macedonian instruments including kaval, gajda, tambura, and tapan.
Charts will be provided, but students are also welcome to learn by ear.
Repertoire will include traditional and more contemporary arrangements.
We will perform at the Student Ensemble dance party on Friday evening.

Class Description | Zurla

Students of all levels are welcome, the classes are designed to accommodate beginners and more advanced players.
Repertoire is tailored to the skill level of the students in attendance and includes Macedonian and/or Romani melodies.
Students will learn about reeds and instrument care.
We will perform outdoors at the lamb roast before the student ensemble night on Saturday.