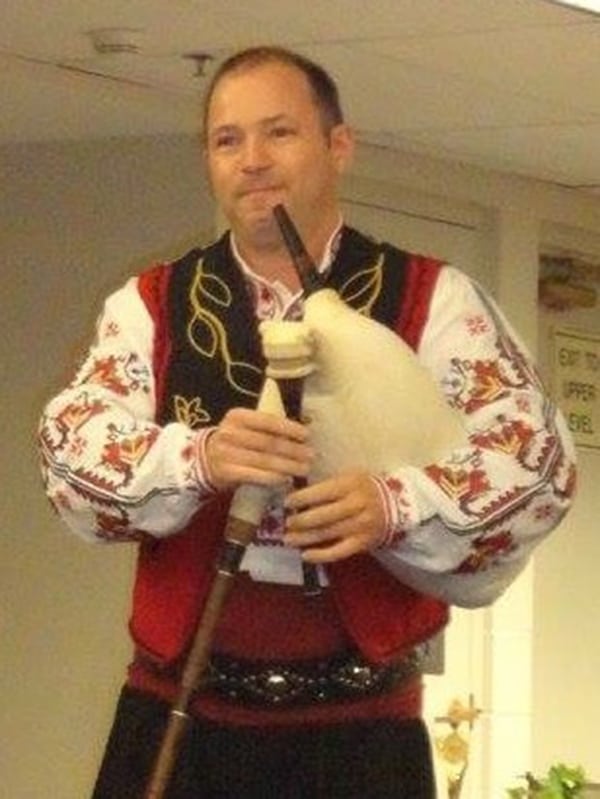 Peter "Usmivkata" Aleksiev
Bulgarian Thracian Gajda
Peter "Usmivkata" (The Smile) Aleksiev was born in Varna, Bulgaria. He graduated from "Philip Kutev" Music School in Kotel, then from Plovdiv's Academy for Music and Dance Arts. He was part of the representative folk orchestra of the Plovdiv Academy. There he received his master's degree in Music Arts with honors, specializing in bagpipe.
While he was at school Petar accompanied the world-known Grammy-winning women's choir Le Mystère Des Voix Bulgares. He has participated in many groups in numerous projects, and has played with the most famous musicians and bands in Bulgaria. Petar has made recordings with the Bulgarian National Radio, and Bulgarian National Television. He has participated in many international projects, folklore events, and festivals in Greece, Italy, Malta, Israel, Netherlands, Belgium, Moldova, Ukraine, Serbia, and elsewhere. Petar frequently composes for dance groups and bands, and is a member of the UNESCO International Organization for Folk Art.
Since 2008 Peter has been living in Chicago, where he performs with Kolorit Orchestra, Orpheus Hellenic Folklore Society, and plays Bulgarian, Greek, and Macedonian music at various events and camps. He also joyfully engages in teaching Bulgarian bagpipe to new enthusiasts.