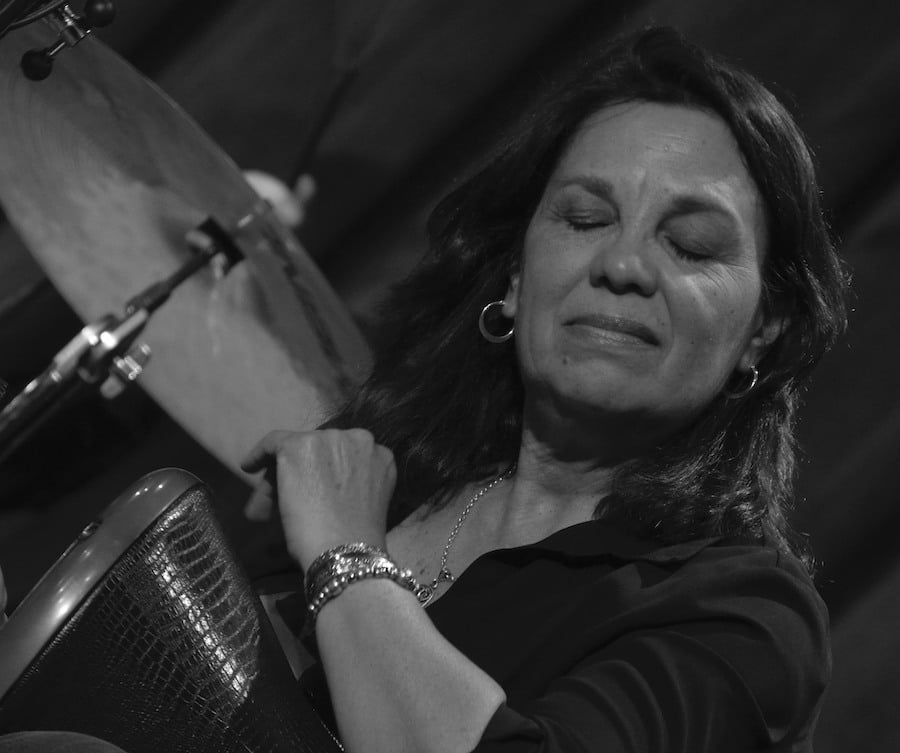 Polly Tapia Ferber
Doumbek
Percussionist Polly Tapia Ferber is a music educator, performer, and recording artist who specializes in hand percussion from the Middle East, Turkey, North Africa, the Balkans, and Spanish Andalucia. She is noted for her melodic style of playing on darabukah, or doumbek (Middle Eastern goblet drum), frame drum, riqq (Middle Eastern tambourine), and cajon (Spanish wooden box-drum).
She has traveled to Tunisia, Egypt, Greece, Spain, Morocco, and Israel; working, studying, and performing with some of the finest and most renowned musicians. For three decades wheshe played with the New York-based Middle Eastern jazz group Taksim, having many performances in Spain, including the World Expo in 1992, and throughout the United States. Polly has collaborated with Dolunay NYC, Orkestra Keyif, EVET, Viva La Pepa, Raif Hyseni & Merita Halili, Vanessa Paloma Elbaz, Mamak Khadem, Yuri Yunakov, Kalin Kirilov, Faruk Tekbilek, Joan La Barbara, and many more respected and beloved musicians. In 2022, Polly was a guest artist in Santa Fe Desert Chorale's program Pilgrimage: Songs of the Mediterranean Basin.
Polly taught in the Contemporary Music Program at the College of Santa Fe, later the Santa Fe University of Art and Design, for over twenty years. Along with teaching percussion, she also taught World Music Survey courses, and directed the Balkan/Mid-East Ensemble. After the college closed, she maintained a productive teaching studio, developing programs, and creating a network within the percussive world. Along with her private students, she also teaches percussion at week- and weekend-long international seminars for folk dance groups.
After the lull of the pandemic, Polly has gratefully resumed an active performing and recording schedule in the U.S. with Santa Fe-based Nacha Mendez Trio, and Santa Fe/Los Angeles-based Middle Eastern rock band Rubi Ate the Fig; and a collaboration with composer/pianist Melanie Monsour for a piece commissioned by Beau Beausoleil as part of the Al-Mutanaabi Street Starts Here project. Polly recently returned from a California tour with Rubi Ate the Fig.