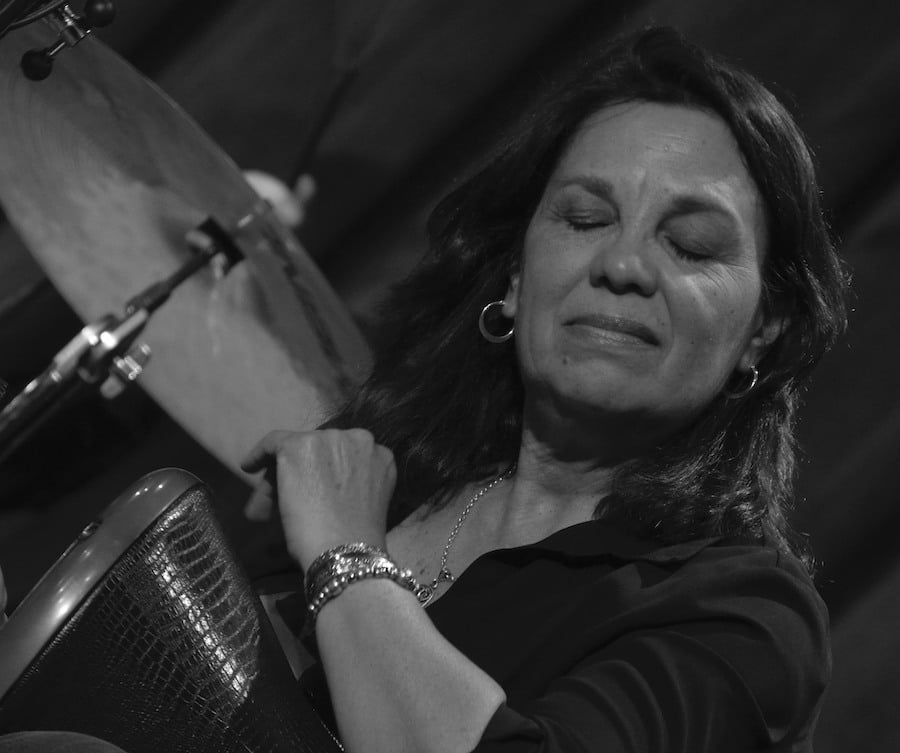 Polly Tapia Ferber
Frame Drum
Percussionist Polly Tapia Ferber is a music educator, performer, and recording artist who specializes in hand percussion from the Middle East, Turkey, North Africa, the Balkans, and Spanish Andalucia. She is noted for her melodic style of playing on darabukah, or doumbek (Middle Eastern goblet drum), frame drum, riqq (Middle Eastern tambourine), and cajon (Spanish wooden box-drum).
She has traveled to Tunisia, Egypt, Greece, Spain, Morocco, and Israel, seeking out the finest teachers and performing with some of the world's most renowned musicians. Polly maintains an active performing and teaching schedule in the U.S., including the EEFC Balkan Music & Dance Workshops since 1978.
Polly plays music with Santa Fe-based Balkan Mideast Ensemble EVET, Middle Eastern rock band Rubi Ate the Fig, Latin world music ensemble Trova, New York-based Middle Eastern jazz group Taksim, Raif Hyseni's Albanian-American Ensemble, Dolunay NYC, and the Iberian Spanish ensemble ¡Viva La Pepa!.
Her playing is featured in recordings such as Near East Far West, Rubi Ate the Fig's Caress the Moon and Live CD, Tulku 2, Inlakesh, ShamanSong, Dezeo, Buddah Bar, Anoush, Mezze, Brenna MacCrimmon's Kulak Misafiri, ¡Viva La Pepa!, Dolunay's Our House, and Raif Hyseni 24.