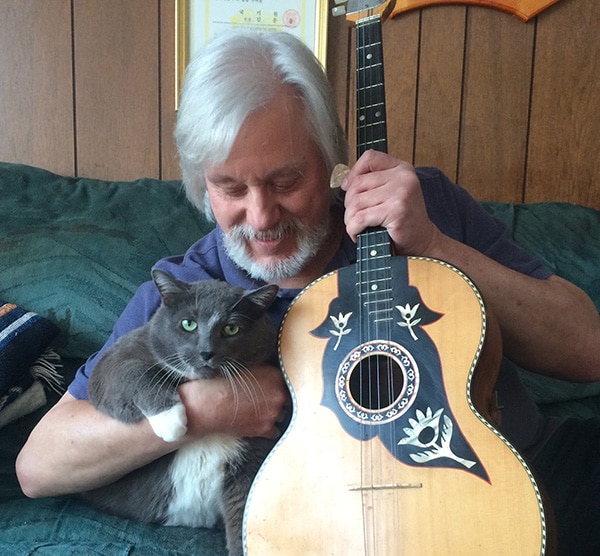 Ray Ranic
Tamburica Ensemble
Ray "Rajko" Ranic was inducted into the Tamburitza Association of America Hall of Fame in 2010. His unique story begins with his adoption by Serbian parents, Nick and Mary Ranic. The cornerstone of his tireless desire to learn and consume all things tamburitza began at age 12 in Lackawanna, NY, at St. Stephen Serbian Orthodox Church.
For over 50 years, Ray has played tambura, taught in the United States and Canada, and performed with several groups. Notably, Ray was the lead brač and prim player with Tillie Klaich's Balkan Serenaders. Two of those members are Tamburitza Association of America Hall of Fame members and former EEFC instructors: Vlad Popovich and the late Charlie Smilinich. The Balkan Serenaders' Nicholas "Tillie" Klaich, Steve Vranjes (Ray's tamburitza instructor) and Chuck Vukovic are also all TAA Hall of Fame inductees, with Ray being the 6th band member to receive the prestigious honor.
Ray shared his knowledge of classic tamburitza from 1995-1998 at the Balkan Music & Dance Workshops. During that time, he began a search for the family he was separated from as a child, a harrowing story of separation and abuse. Over the course of four years, Ray would locate 14 of the 16 siblings he was separated from for 40 years. Upon learning his story (carried in two national newspapers), the surrogates judge in Buffalo, NY, opened two sealed files to give him back his brother and sister, finally bringing an end to his search. In August of 1998, their family reunion took place.
Ray is a graduate of Empire State College in New York. He performed at ESC and wrote on the "Ethnomusicology of Yugoslavian Folk Instruments," becoming the first student in ESC history to receive senior year advanced life studies credit based on his tambura knowledge and experience.
In 1997, he released the recording Messiah's Rhapsody, which earned him the TAA "Presidents Award" in Pittsburgh, PA, later that year. On the back insert of the cover is a heart inscribed with the five names of the siblings Ray had not yet located at the time of completion. He has since found his entire family.
The TAA recognized Ray's contributions in 2010 to music, writing, teaching, performing and global communications through his creativity and perseverance to connect with every aspect of his life. He has been acknowledged—by TAA Hall of Fame member Milan Opacich—with The Balkan Serenaders in Tamburitza America and also in post-adoption-reunion books Forbidden Family, by Joan Wheeler, and The Names of my Mothers, by Dianne Sanders Riordan.
In May of 2013, Ray was involved in an auto accident, sustaining severe head, spine, left shoulder, left arm and left hand injuries. After extensive surgery to his shoulder and 2½ years of physical therapy, Ray began playing his beloved tambura instruments again in 2015. In Ray's photograph, you see him with the other "Balkan Lion," his cat, Sox. After Ray's accident and surgery, Sox was his constant companion and an inspiration, in reality a vital part of his rehabilitation. Ray continues to heal with family and Sox at his side.
Also known as "The Balkan Lion," Ray's website proudly promotes his belief that "All Children need TBL . . . To Be Loved."
With the passing of former EEFC instructor Vlad Popovich in April 2017, this year's tamburica class will be dedicated in his memory. Vlad was an outstanding brač player and the musical director of the nationally known tamburica group Tillie Klaich's Balkan Serenaders, and was and inducted into the Tamburitza Association of America Hall of Fame in 1993.
Class Description | Tamburica Ensemble
Beginner students will be taught outside of the intermediate/advanced Tamburica class. No pressure to perform for beginners.

Schedule allowing, I'm available for additional instruction outside of class.

We will prepare a dance set for the Student Ensemble Party. Students can decide individually whether they'd like to perform.

Class will also prepare for a camp sing along and a jam session at Kafana.

This class plans to collaborate with Ljubomir Zivkov and Dr. Alex Markovich.
Repertoire will be taught by ear at a fairly rapid pace and by using sight reading charts.

Repertoire will be available online before camp.