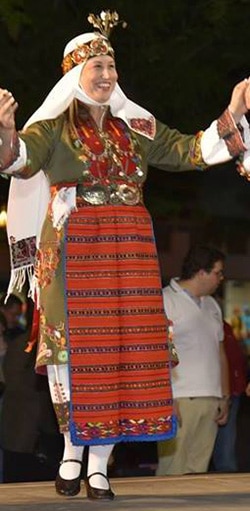 Rena Karyofyllidou
Greek Dance
Eirini "Rena" Karyofyllidou is a dancer and teacher of traditional Greek Macedonian and Thracian dances. She was born in the village of Kavallari, near Thessaloniki, Greece, in a family that originated in both Greek Macedonia and Eastern Thrace. She has been teaching Greek dances since 1985, has participated in hundreds of dance events in Greece and abroad, and has taught for a dozen dance groups in Greece.
Rena learned dancing as a child from her family and fellow villagers. As a teenager she was a member of the local Kavallari dance ensemble and was active in many dance organizations in Thessaloniki. There she received her degree from the Aristotle University in Physical Education with a specialization in traditional Greek dances. She was a member of and instructor for the "G.K. Fotiadis" dance ensemble for over 20 years, and currently dances for the Thessaloniki-based "Kyklos" ensemble.
Class Description | Greek Macedonian & Thracian Dance

This class will be a low-intermediate level. Beginners are welcome. Dances will range from very simple to more complex (in terms of step patterns, additive meters, etc.), and the class pace will adjust to the average abilities and learning speed of the majority of participants.
Our repertoire will include a regional survey of central Macedonian and Thracian dances.
We will discuss strategies for learning new dances and
line leaders are expected to rotate throughout class.
This class is accessible to non-dancer musicians.
Schedule allowing, I'm available for additional instruction outside of class.