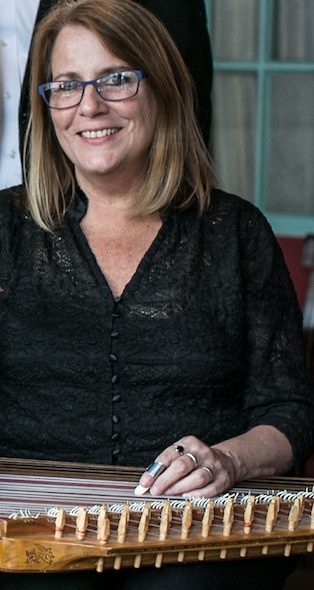 Ruth Hunter
Balkan and Greek Singing
Ruth Hunter began her musical career singing and playing Bulgarian folk music, but immersed herself in Greek music and culture after marrying Christos Govetas in 1995. She sings and plays accordion, tambura and kanun, and works with youth at Saint Demetrios Greek Orthodox Church as well as playing with Drómeno. Ruth has been actively performing Greek and Balkan music since 1985 as a founding member of the iconic girl-group, Medna Usta, and playing with many other groups, including The Balkan Noyz Boyz and the Bay Area Balkan Ensemble. In addition to playing with Drómeno, Ruth is the driving force behind Balkan Night Northwest, and, along with her husband Christos, has been awarded the Gordon Ekvall Tracey Award by the Ethnic Heritage Council in Seattle for her work in the Northwest Greek and Balkan community. They are also the recipients of the Ethnic Heritage Council's Gordon Ekvall Tracie award of 2017.
Class Description| Balkan Singing Technique
Beginners are welcome.

We will prepare something for the Student Concert.

This class plans to collaborate with Christos Govetas's classes.

Repertoire will focus on sing-along songs from the camp songbook and Greek and Macedonian ballads and table songs.

Repertoire will be taught by ear at a fairly rapid pace.