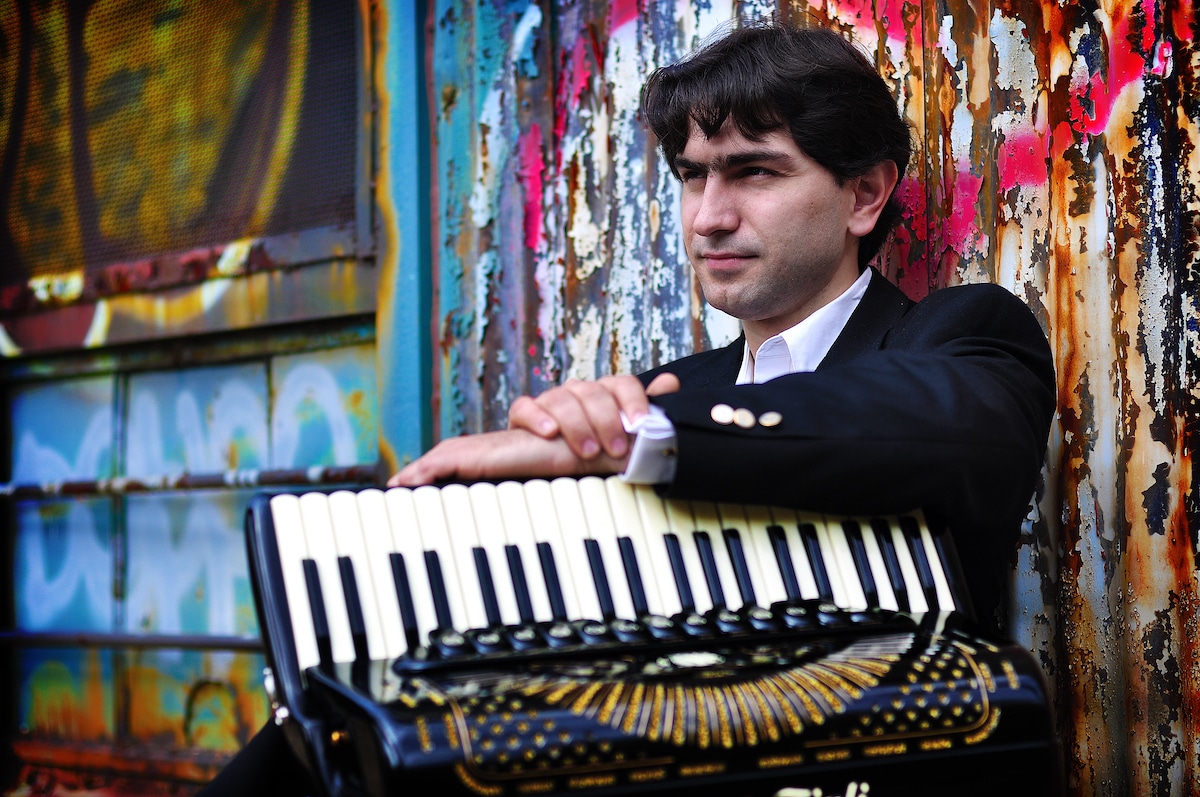 Vladimir Mollov
Accordion
Born in Bulgaria to a family of self‐taught wedding musicians, Vladimir was inspired by the sounds of the accordion from early childhood. At eighteen months old, he "played" his little accordion alongside his father at weddings.
At the age of seven he started taking formal accordion lessons with the nationally recognized pedagogue Nadejda Nicheva in Kazanluk, Bulgaria. At his later stages of musical development he studied with Dr. Peter Marinov at the National Music Academy, internationally recognized accordion artist Hristina Danova, and Nedelcho Dimitrov, a laureate of national and international accordion festivals and competitions.
At the age of thirteen Vladimir placed fourth in an accordion competition in Vladivostok. Two years later he placed first in the International Competition for Accordion and Guitar in Asenovgrad, Bulgaria, and received fourth place in the World Accordion Competition in Castelfidardo, Italy. Since then, Vladimir has been recognized at several national and international accordion competitions including first place at the 2002 National Competition for Variety Music and Jazz in Novi Pazar, Bulgaria, and second place with a special award for virtuosic performance of folk music in the National Accordion Competition 2000 in Plovdiv, Bulgaria.
In 2002 he joined the Duquesne University Tamburitzans and performed more than three hundred and fifty shows with the ensemble over a four-year period. Vladimir still continues to arrange dance and instrumental music for the Tamburitzans.
In 2009, Vladimir released his first album, Dreams, featuring all original instrumental pieces combining Balkan folk, jazz and fusion styles. He is a founding member of the Argentinean tango quintet, Cuidado, with which he recorded an album featuring traditional and modern tangos as well as two of his original compositions. Vladimir has performed with the Kruno Spisic Gypsy Jazz Ensemble, Bulgarika, and numerous other bands. He is featured as a guest on Babik's 2008 gypsy jazz album, American Gypsy. Vladimir has been a featured artist for Siwa and Figli Accordions since 2009 and plays the Super Quatro model.